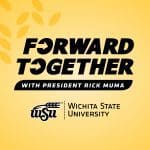 Watch a video of the podcast
The "Forward Together" podcast celebrates the vision and mission of Wichita State University. In each episode, President Rick Muma will talk with guests from throughout Shocker Nation to highlight the people and priorities that guide WSU on its road to becoming an essential educational, cultural, and economic driver for Kansas and the greater good.
Episode Description: In this inaugural Forward Together podcast, we focus on digital transformation in the arts. We're joined by Shocker alum Dean Hargrove — writer, director and producer, whose credits include "Columbo" and "Matlock" — and Wichita State's dean of the College of Fine Arts, Dr. Rodney Miller.