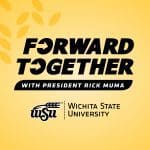 Watch a video of the podcast
The "Forward Together" podcast celebrates the vision and mission of Wichita State University. In each episode, President Rick Muma will talk with guests from throughout Shocker Nation to highlight the people and priorities that guide WSU on its road to becoming an essential educational, cultural, and economic driver for Kansas and the greater good.
Episode Description: On this episode of the Forward Together podcast, WSU President Dr. Rick Muma and his guests reflect on and celebrate all that Wichita State University has accomplished in 2021. Special guests include James Chung, founder of Reach Advisors and author of the Chung Report; and Dr. Kaye Monk-Morgan, vice president of engagement and planning at Wichita State University.