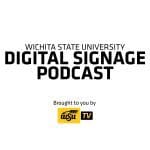 Here are your Wichita State University digital signage announcements for Monday, April 15th through Sunday, April 21st, 2019:
Do you want to make an impact on campus? Apply today to become a cabinet member or senator of the 62nd Session of the Student Government Association. Download the application via the SGA website, wichita.edu/SGA. Applications are due Monday, April 22 by Noon to the SGA Office, RSC 219. For more information please contact sga@wichita.edu or 978-3480.
On Monday, April 22, from 11 A.M. – 1 P.M. join Community Service Board at the Boys & Girls Club to staff a variety of stations for youth members to participate in walk-by service activities such as dog toy making for the Kansas Humane Society, animal stuffing for the Wichita Children's Home and Ronald McDonald House, and other giving back interactive activities. Register at https://wichita.galaxydigital.com/need/detail/?need_id=386489.
On Monday, April 15, from 4-6 P.M. join Community Service Board in helping the youth in our community by providing homework assistance in a variety of subjects at The Boys & Girls Club! No experience is required. Register athttps://wichita.galaxydigital.com/need/detail/?need_id=386476.
Help us put on one of largest events of the year, our 26th annual Family Carnival! Volunteers will receive a free t-shirt and lunch will be provided! Register online at: wichita.edu/familycarnival or contact Student Involvement at (316) 978 3022 for more information! 
 SAC's 26th annual Spring Family Carnival is a much anticipated tradition at Wichita State University. This fun family event features inflatables, a petting zoo, tons of carnival games, activities, and treats! Admission is free for all WSU students and general public, and nominal ticket rates apply. For more information about SAC sponsored events, please visitwichita.edu/sac or contact us at sac@wichita.edu.
Office of First-Year Programs is hosting their Coffee and Conversation event during DiverseCity Week! Come to the RSC 1st floor from 11-1 PM for free coffee and tea to chat about the book Just Mercy and its themes!
Nominate an advisor for the first annual Excellence in Academic Advising Awards. These awards recognize individuals who demonstrate qualities and practices that make significant contributions to the improvement of academic advising at WSU and beyond. Nominate an advisor by completing an online form by April 24, 2019.
Research Coordinator needed $13.00 hr/20 hrs weekly. Submit your application via Handshake or call the McNair Scholars Program Office at 316-978-3139.
Study Abroad in France at University of Orleans for Spring 2020 for your French minor or major. Scholarships of $1,500 are available and the deadline to apply is September 1st.
To float or not to float, that is the question. Put your building skills to the test and create a boat using cardboard and duct tape. Then name it, climb in and race to the finish line! Awards for creativity, team spirit, people's choice and the race winner. 
Heskett Center and Wiedemann Natatorium will be closed on Easter Sunday.
Join University Libraries for Patent Workshops April 19 and May 3 from 11 a.m. – 1 p.m. in Ablah Library, Room 204. For more information call Sara Butts at (316) 978-5017.
The sisters of Sigma Psi Zeta would like to introduce our newest class, the Icy Iotas. Our new member presentation will be held at Braeburn Square and will begin at 7:30 PM on April 19th.
Want to get a head start on working on your tenure and promotion dossier? Want to determine the impact of your research? Come to the University Libraries' Citation Searching and Altmetrics for T&P Dossiers workshop on Tuesday, April 16, 2019, 1:00 – 2:30 p.m. in Ablah 217. For more info, call Kathy Delker at (316) 978-6331.
Study Abroad in Japan at our partner universities for Spring 2020 in the areas of Japanese Language, International Studies and Business. Scholarships of $1,500 are available and the deadline to apply is September 1st.
 Study Abroad in Spain at University of Deusto for Spring 2020 in the areas of Psychology, Engineering, International Studies or Spanish. Scholarships of $1,500 are available and the deadline to apply is September 1st.
 Stop by the Rhatigan Student Center every Wednesday for the live music series, RSC Unplugged. RSC Unplugged for Wednesday, April 10 features Randy Fields Combo from 11 a.m.-1 p.m. in the RSC's Starbucks Lounge. Grab a cup of coffee and relax with some great music!
Save the date for the Shocker Store's Spring Patio Sale! From 10 a.m. – 2 p.m. on Tuesday, April 30 and Wednesday, May 1 on the RSC North Patio, you will find great deals on Shocker gear for all the Shockers in your life!
Looking for a class ring or graduation announcements? Stop by the Shocker Store's Ring Days in their RSC location from 10 a.m.-3 p.m. on April 17th and 18th.
Is criminal justice your calling? If you have any interest in the field at all, come to the Criminal Justice Career Fair, Monday, April 15, 10 a.m. – 2 p.m., RSC 3rd Floor.
Student Involvement and the Student Activities Council want to what you think about the programs and activities we offer! Got ideas for future events? We want to know! Please take 10 minutes to TELL US by completing the survey at wichita.edu/TellUs. Survey close on Wednesday, April 17. 
Try the Shocker Sports Grill & Lanes' April Burger of the Month – the Hangover Burger! It's topped with a fried egg, bacon and American Cheese.
Members of the EAT.DRINK.PLAY. Rewards Program in the Shocker Sports Grill & Lanes can enjoy an additional 5% discount every Friday in April. That is 5% in addition to your rewards level discount! If you are not already a member, signing up us free and easy. Simply visit our customer service or sports grill counter for details.
AmeriCorps VISTA members have a mission to bring individuals and communities out of poverty. "Anyone interested in Volunteers in Service to America (VISTA) can now apply at my.Americorps.gov. Contact WSU VISTA Leader, Shyla Thompson (316-779-4049) with questions.
Campus Recreation's Amazing Race is April 19th at 3 p.m. To participate, sign up at the Heskett Center front desk. Teams of two will race around campus, working their way through unique challenges, physical and mental activities and a variety of interactive tasks. The finish line in Braeburn Square will be the site of a tailgate at 5 p.m.
Join the Counseling and Testing Center for Keep Calm & Breathe On. Drop in to build structured relaxation time into your life and learn techniques to do relaxation on your own. You will be led in meditation, mindfulness and relaxation practices.
Starting to feel sick? We can help. Student Health Services offers appointments every weekday. Schedule yours from anywhere with the myShockerHealth portal at wichita.edu/shs.
Need a physical? We can help. Make your appointment with Student Health Services online with the myShockerHealth Portal at wichita.edu/shs.