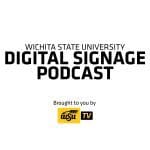 Here are your Wichita State University digital signage announcements for Monday, April 22nd through Sunday, April 28th, 2019:
Shocker Rowing is hosting the first ever Plains Regatta on May 5th. Several other plains region rowing teams will be in attendance and racing against the Shocker Rowing Crew, so come down to the River Vista Boathouse (150 N. McLean blvd) from 8 a.m.-3 p.m. to support the Shocks on their home river!
Stop by the Rhatigan Student Center every Wednesday for the live music series, RSC Unplugged. RSC Unplugged for Wednesday, April 24 features Poke Salad Orchestra from 11 a.m.-1 p.m. in the RSC's Starbucks Lounge. Grab a cup of coffee and relax with some great music! 
A Long Story Short April 26-27, 2018; 7:30pm; The Welsbacher Theatre Tickets: $15 General Admission, $12 Military, Senior Citizen, $10 Student/Child, Free to WSU Students with Student ID Box Office: 316-978-3233 or Wichita.edu/fineartsboxoffice A Long Story Short is a mystery/suspense film following a small town book club who find messages crying out for help written in library books. The group decides to investigate to see if it's a hoax, or if there is someone out there needing saving. 
Vasanth 2k19, a cultural show organised by Indian student association during spring every year, where the various Indian arts were being performed by the students, faculty and residents of Wichita. also, the grand finale of miss India pageant will be taking place on event night.
On April 26, 2019 Student Involvement in conjunction with the Multicultural Greek Council (MGC) will host a ribbon cutting for the Multicultural Greek Council Quad. The event will begin at 11 a.m and will take place on the RSC East Patio with the rain location of the RSC East Atrium. 
In "Improving Strategies Through Storytelling" learn how to tell your story in this power packed session to attract, retain and develop top talent. For Entrepreneurs, Employers & employees can benefit from this course. April 26, at 12 p.m. in the Experiential Engineering Building.
Do you want to make an impact on campus? Apply today to become a cabinet member or senator of the 62nd Session of the Student Government Association. Download the application via the SGA website, wichita.edu/SGA. Applications are due Monday, April 22 by Noon to the SGA Office, RSC 219. For more information please contact sga@wichita.edu or 978-3480.
On Monday, April 22, from 11 A.M. – 1 P.M. join Community Service Board at the Boys & Girls Club to staff a variety of stations for youth members to participate in walk-by service activities such as dog toy making for the Kansas Humane Society, animal stuffing for the Wichita Children's Home and Ronald McDonald House, and other giving back interactive activities. Register at https://wichita.galaxydigital.com/need/detail/?need_id=386489.
Nominate an advisor for the first annual Excellence in Academic Advising Awards. These awards recognize individuals who demonstrate qualities and practices that make significant contributions to the improvement of academic advising at WSU and beyond. Nominate an advisor by completing an online form by April 24, 2019.
Research Coordinator needed $13.00 hr/20 hrs weekly. Submit your application via Handshake or call the McNair Scholars Program Office at 316-978-3139.
Study Abroad in Germany at Hamburg University of Applied Science for Spring 2020 for Aerospace Engineering. Scholarships of $1,500 are available and the deadline to apply is September 1st. Email studyabroad@wichita.edu for more information.
Study Abroad in France at University of Orleans for Spring 2020 for your French minor or major. Scholarships of $1,500 are available and the deadline to apply is September 1st. Email studyabroad@wichita.edu for more information.
To float or not to float, that is the question. Put your building skills to the test and create a boat using cardboard and duct tape. Then name it, climb in and race to the finish line! Awards for creativity, team spirit, people's choice and the race winner. April 27 at 10 a.m. in the Heskett Center. Visit wichita.edu/cardboardregatta for more information.
Join University Libraries for Patent Workshops April 19 and May 3 from 11 a.m. – 1 p.m. in Ablah Library, Room 204. For more information call Sara Butts at (316) 978-5017.
The WSU Neurodiversity Awareness Week: Autism Spectrum Disorder is April 22-26. Each day, a different event will be held on campus. These events have been designed to promote awareness and acceptance of autism within the WSU community. 
Save the date for the Shocker Store's Spring Patio Sale! From 10 a.m. – 2 p.m. on Tuesday, April 30 and Wednesday, May 1 on the RSC North Patio, you will find great deals on Shocker gear for all the Shockers in your life
Try the Shocker Sports Grill & Lanes' April Burger of the Month – the Hangover Burger! It's topped with a fried egg, bacon and American Cheese.
Members of the EAT.DRINK.PLAY. Rewards Program in the Shocker Sports Grill & Lanes can enjoy an additional 5% discount every Friday in April. That is 5% in addition to your rewards level discount! If you are not already a member, signing up us free and easy. Simply visit our customer service or sports grill counter for details.
AmeriCorps VISTA members have a mission to bring individuals and communities out of poverty. "Anyone interested in Volunteers in Service to America (VISTA) can now apply at my.Americorps.gov. Contact WSU VISTA Leader, Shyla Thompson (316-779-4049) with questions.
Join the Counseling and Testing Center for Keep Calm & Breathe On. Drop in to build structured relaxation time into your life and learn techniques to do relaxation on your own. You will be led in meditation, mindfulness and relaxation practices.