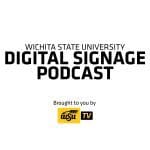 Here are your Wichita State University digital signage announcements for Monday, April 23rd through Sunday, April 29th, 2018:
Come join us for the interesting talk from ACM distinguished speaker Prof.Oge Marques on "Using Games to Solve Challenging Multimedia Problems" at RSC 301 on April 23 from 2:00 PM. Light refreshments and Pizza would be served.
Explore the culture, traditions, and art of the Caribbean Carnival with mask making, music, costumes and dancing. Light snacks will be provided. Free Admission | Public Welcome Saturday, May 19 | 1-3 p.m.
Are you thinking about getting a trademark for your business? Don't miss Trademark Tuesday, a virtual presentation by experts at the Trademark Assistance Center at the USPTO. Free and open to the public. RSVP athttps://wichita.libcal.com/event/4167396
Experience Basant Fiesta organized by PSA Wichita State University. Bring your friends and family and enjoy traditional Pakistani music, fly some kites, and treat yourself to our open potluck and savor some special snacks from Pakistan. We will also be having a Mehndi/Henna artist who will be doing henna designs for free! Please bring cash to buy kites that will be available in a variety of colors and Sizes
Come join Student Activities Council and HALO for games, prizes, music, ice-cream and much more! Field Day is this Friday, April 27 at the RSC East Courtyard at 1:00 – 3:00 p.m. Get ready to have some fun and reminisce while participating in field day games from elementary school days. This event is FREE for WSU students and staff. Get the chance to win raffle prizes by brining non-perishable. One item equal to one ticket!
Finals are stressful and sometimes it makes you want to scream. Don't scream. It's bad for you. Come out to Stress Free karaoke to sing to your hearts content. Located in RSC 233, Santa Fe Trail Room from 7-10 p.m. join us on Monday, April 30, 2018. For more information please contact student involvement at (316) 978-3022 or email us at
getinvolved@wichita.edu
.
Join the headspace of Wichita State University's 2018 graduating class of fresh, young graphic designers, doers and thinkers. April 28th from 6 to 10 p.m. at Shift Space Gallery on Commerce Street.
Wu Lifts was a success! We would like to thank everyone for participating as well as our sponsors.
What's gender? What is sexual preference? What is the experience of coming out like? Have questions about the Drag Show? Come found out from our panelists with CutH8 on the 25th of April at 2pm -3pm, at RSC 256. In collaboration with the office of Diversity and Inclusion and the Office of Equal Opportunity and Title XI
The WSU Neurodiversity Awareness Week: Autism Spectrum Disorder is scheduled for April 23 through the 28th. There will be an event scheduled each day in various areas of the campus. Please see flyers posted throughout campus and/or WSU Today for additional event details.
Join us for the campus wide worship night on Friday, April 27th at 7pm as students from all walks of life come together to worship the person of Jesus. No agenda. No announcements. Just come as you are and enjoy Jesus and live worship. Worship night is in the WSU Chapel.
Our final reading of the year honors Wichita State's 44th graduating class of MFA Creative Writing students. The 2018 class will read selections from their work, with fiction by Matthew Garner, Chance Swaim, Annmarie Woods, and Josh Zimmerer, and poetry by Katie Amundsen, Nicole Byrne, Shannon Nakai, and Toni Loeffler. Writing Now/Reading Now: MFA Graduate Reading Sunday, April 29. Reception starts at 1:30 p.m. Reading begins at 2 p.m.
Research Coordinator Position open in the McNair Scholars Program. If interested please contact the office for all qualifications and responsibilities. Office #: 316-978-3139 or come by Grace Wilkie Annex Rm 173.
The McNair Scholars Program is a graduate preparation program for first-generation, low-income and underrepresented students. The program provides scholarly research, GRE preparation, application completion, mentorship, academic advising and writing development. For more information, contact the McNair office at 316-978-3139, via email at McNairScholars@wichita.edu, or find us online at www.wichita.edu/McNair.
Are you graduating this spring? Commemorate this achievement with a commencement t-shirt! Your name will be listed on the back with all the other Spring 2018 grads. Pre-order online at www.wsubooks.com under the "Graduation" tab (for pick-up at graduation) or purchase at the Bookstore's Koch Arena souvenir store during commencement. For more information, call 316-978-7490.
Save the date for the University Bookstore's Spring Patio Sale! From 10:00 a.m. to 2:00 p.m. on Wednesday, April 25 and Thursday, April 26, on the RSC North Patio, you will find great deals on Shocker gear for all the Shockers in your life.
Make sure to follow the Multicultural Greek Council on all of our social media outlets! The Multicultural Greek Council houses 10 Multicultural Greek organizations at WSU. These organizations are based on service, scholarship and brotherhood/sisterhood. For more information, contact our email at wichita.mgc@gmail.com.
Try the Shocker Sports Grill & Lanes April Burger of the Month, the Hangover Burger! It's topped with a fried egg, bacon and American cheese. Available for the month of April only, so swing on by!
April brings great bowling deals exclusively for members of the EAT.DRINK.PLAY. Rewards program in the Shocker Sports Grill & Lanes! Members can enjoy $1 bowling games on Fridays, Saturdays and Sundays during the month. Shoe rental is not included and availability may vary due to special events and group reservations. Joining our rewards program is both free and easy! Visit us for details.
En Mas' curator Claire Tancons will speak on Tuesday, April 24. Reception is at 5:30 p.m. The talk will start at 6:00 p.m. Admission is free and open to the public.
Sigma Psi Zeta Sorority, Inc. is hosting their annual Clothesline Project on April 30, 2018 from 10 a.m.-12:30 in the Rhatigan Student Center Room 142. The Clothesline Project is a campaign that brings awareness to the unique stories and experiences of survivors of gender-based violence within the community. For more information, please contact Sarah Myose at syz.jager@gmail.com.
Join the members of Sigma Psi Zeta Sorority, Inc. to raise awareness about dating violence through their annual Red Flag Campaign on Tuesday, April 24 from 11 a.m to 1 p.m. in the RSC 1st floor! Decorate a flag and learn more about the red flags of dating violence at this unique event! For more information, please contact Sarah Myose at syz.jager@gmail.com.
A great opportunity to structure relaxation into your week, Keep Calm and Breathe On will teach relaxation, mindfulness and meditation techniques, with the overall goal of managing stress, increasing well-being and leading a healthier life. Every Wednesday 12:15-12:45 p.m. in RSC 257.
A guest panel from WSU Ventures will discuss next steps for inventors who need fund, develop, commercialize, or license their product. The workshop will be on April 24 from 5:30 p.m. – 7:00 p.m. on the lower level of Ablah Library.
Join Community Service Board in Mentoring Mondays! Volunteers are needed to provide tutoring for youth in variety of subjects. No tutoring experience is required. To volunteer, please visit wichita.edu/CSBvolunteer.