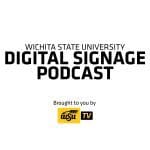 Here are your Wichita State University digital signage announcements for Monday, April 30th through Sunday, May 6th, 2018:
Stop by the Rhatigan Student Center every Wednesday for the live music series, RSC Unplugged. RSC Unplugged for Wednesday, May 2 features Michael J. Engdahl Trio from 11 a.m.-1 p.m. in the RSC's Starbucks Lounge. Grab a cup of coffee and relax with some great music!
Need to relieve some stress of studying for finals? For Finals Frenzy week (April 30-May 5), the Shocker Sports Grill & Lanes will offer $1 cosmic bowling games from 7-10 p.m. each night. Rental shoes are include and it's $1/person, per game. Offer not valid for advance group reservations.
SHOCKERTHON is a student-led, non-profit organization that raises awareness and fundraises for Wichita's local Children's Miracle Network Hospitals. Our annual big event, our dance marathon, is May 5th, 2018 in Wichita State's very own Heskett Center and will feature food, activities, inflatables, a DJ, and more! Registration is $20 and all proceeds will be used to directly cover medical expenses for children in need.
Explore the culture, traditions, and art of the Caribbean Carnival with mask making, music, costumes and dancing. Light snacks will be provided. Free Admission | Public Welcome Saturday, May 19 | 1-3 p.m.
Are you thinking about getting a trademark for your business? Don't miss Trademark Tuesday, a virtual presentation by experts at the Trademark Assistance Center at the USPTO. Free and open to the public. RSVP at https://wichita.libcal.com/event/4167396.
Finals are stressful and sometimes it makes you want to scream. Don't scream. It's bad for you. Come out to Stress Free karaoke to sing to your hearts content. Located in RSC 233, Santa Fe Trail Room from 7-10 p.m. join us on Monday, April 30, 2018. For more information please contact student involvement at (316) 978-3022 or email us at
getinvolved@wichita.edu
.
Research Coordinator Position open in the McNair Scholars Program. If interested please contact the office for all qualifications and responsibilities. Office #: 316-978-3139 or come by Grace Wilkie Annex Rm 173.
The McNair Scholars Program is a graduate preparation program for first-generation, low-income and underrepresented students. The program provides scholarly research, GRE preparation, application completion, mentorship, academic advising and writing development. For more information, contact the McNair office at 316-978-3139, via email at McNairScholars@wichita.edu, or find us online at www.wichita.edu/McNair.
PIVOT open labs are to assist faculty and staff who are interested in identifying external funding sources. May 10, 2:30 – 4:00 p.m. in Jardine Hall, Room 409E. No registration required. Email kendra.nguyen@wichita.edu or call 316-978-3285.
Are you graduating this spring? Commemorate this achievement with a commencement t-shirt! Your name will be listed on the back with all the other Spring 2018 grads. Pre-order online at www.wsubooks.com under the "Graduation" tab (for pick-up at graduation) or purchase at the Bookstore's Koch Arena souvenir store during commencement. For more information, call 316-978-7490.
Make sure to follow the Multicultural Greek Council on all of our social media outlets! The Multicultural Greek Council houses 10 Multicultural Greek organizations at WSU. These organizations are based on service, scholarship and brotherhood/sisterhood. For more information, contact our email at wichita.mgc@gmail.com.
Sigma Psi Zeta Sorority, Inc. is hosting their annual Clothesline Project on April 30, 2018 from 10 a.m.-12:30 in the Rhatigan Student Center Room 142. The Clothesline Project is a campaign that brings awareness to the unique stories and experiences of survivors of gender-based violence within the community. For more information, please contact Sarah Myose at syz.jager@gmail.com.
A great opportunity to structure relaxation into your week, Keep Calm and Breathe On will teach relaxation, mindfulness and meditation techniques, with the overall goal of managing stress, increasing well-being and leading a healthier life. Every Wednesday 12:15-12:45 p.m. in RSC 257.