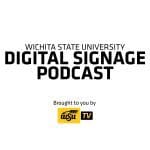 Here are your Wichita State University digital signage announcements for Monday, August 27th through Sunday, September 2nd, 2018:
De-stress from the first two weeks and join SAC for some BINGO fun with AMAZING prizes! You must be a student to be eligible to win, but all are welcome to play! We will be serving fresh popcorn and you can also come dressed as your favorite meme for a night full of laughs! Meme Themed Bingo is Friday, August 31st, starting at 8:00 p.m. in the RSC, 3rd Floor, Beggs Ballroom.
The "Digital Literacy Basics" workshop will explore the basic concepts comprising Digital Literacy – a framework necessary to effectively understand, use, and create with digital technologies. What is it necessary to know and what must I be able to do in order to possess the know-how required for skillful participation in digital media? This workshop will be from 2:00 p.m. to 3:30 p.m. Thursday, September 13 in Room 217 in the Ablah Library.
Interested in Marketing and shaping the brand of an engaging organization? Apply to be Student Activities Council's Vice President of Marketing today! Applications can be found at
www.wichita.edu/SAC
and are due on Friday, August 31 at 5:00 p.m. Find out more information on the website or email
sac@wichita.edu
.
Student Health Services, Office of Diversity and Inclusion, and Housing and Resideince life are partnering with Positive Directions of Kansas to bring you free HIV testing, 1:00 p.m. to 4:00 p.m. on September 4th in Ahlberg Hall room 205. Get tested and know your status.
Inventions, designs, original works of authorship, and trade secrets can provide you with economic benefits. Learn the basics of intellectual property protection! The "Intellectual Property Basics" workshop will be from 5:30 p.m. to 7:00 p.m. Tuesday, September 11 in RM 217 of the Ablah Library.
Learn to use Endnote to upload citation data from library databases, create new citations in various citation styles, organize citations, and insert citations into a MS Word document. The "How do I get started in Endnote?" workshop will be from 4:00 p.m. to 5:00 p.m. Friday, September 14 in Room 217 of the Ablah Library.
Discover, locate, and evaluate scholarly sources your instructors will think are awesome. The "How can I find sources my instructor will like?" workshop will be held Sept. 12 in Room 217 of the Ablah Library from 4:00 p.m. to 5:15 p.m.
University Libraries (UL) can make your life easier, especially when it comes to doing library research. Come to the "Library Tips and Tools for Grad Students" workshop to learn about library resources that help you avoid article charges, the EndNote software program provided by the UL that reduces the effort required to format research papers and citations, technology equipment such as iPads and portable projectors that you can borrow, subject librarians who are available for individual and group consultations, and much more. This workshop is available Tuesday, August 28 from 5:00 p.m. to 6:00 p.m. and Thursday, August 30, from 1:00 p.m. to 2:00 p.m. in Room 217 of the Ablah Library.
Want to learn more about University Libraries? Attend one of our "Navigating University Libraries" tours during Welcomefest! One will be held on Wednesday, August 29 from 4:00 PM-5:00 PM. Another will be held Friday, August 31 from 12:00PM-1:00PM. The tour begins by the Circulation Desk on the main floor of Ablah Library followed by an orientation to online services and collections in 217 Ablah. Services include wireless network, 3D scanning and printing, and other technology.
In the "How do I write a literature review?" workshop, researchers in all subject areas will learn to create a literature review from conducting comprehensive research, synthesizing perspectives, and presenting findings. Friday, September 7 from 12:00 p.m. to 1:15 p.m. in Room 217 of the Ablah Library. RSVP at
https://libraries.wichita.edu/savvyresearcher
. Engineering students please note the workshop on literature reviews using engineering sources on 11/16.
In the "How do I go beyond basic search?" workshop, explore basic search strategies, such as phrasing, Boolean, and typical library database features. Wednesday, September 19 from 4:00 p.m. to 5:15 p.m. in Room 217 of the Ablah Library. RSVP at
https://libraries.wichita.edu/savvyresearcher
. For more information contact Angie Paul at 978-5084.
Visit your Home Away From Home for our Fall Open House! Light Refreshments will be served. 2:00 p.m to 3:30 p.m. on Thursday, August 30 in Rhatigan Student Center, Room 208.
The annual Study Abroad Fair will be held on Tuesday, September 11th from 10:00 a.m. to 2:00 p.m. in the RSC first floor. Come to the fair to visit over 20 different informational tables and hear about student experiences related to study abroad programs at WSU.
Trademark Tuesday is August 28, from 12:30 p.m. to 2:00 p.m. in Ablah Library, Room 217. The Rocky Mountain Regional U.S. Patent and Trademark Office (USPTO), in collaboration with partners located across the Rocky Mountain region, hosts quarterly interactive sessions with experts from the USPTO's Trademark Assistance Center (TAC), which is based at USPTO Headquarters in Alexandria, VA. Contact Sara Butts at 978-5017 for more info.
Mark your calendars for the Shocker Store's first one-day-only sale of the school year! On Tuesday, September 18, the Shocker Store will have two t-shirts available for $7.00 each, while supplies last. Store opens at 8:00 a.m. and they will sell out, so hurry in that day! Limit 3 per customer. Sale is in store only. Offer not valid with other discounts or promotions and all sales are final.
Make it a cosmic Labor Day weekend at the Shocker Sports Grill & Lanes! From 5:00 to 9:00 p.m. Saturday, September 1 through Monday, September 3, cosmic bowling is just $1.00 per game, with FREE rental shoes! Offer is not valid for group reservations. Shocker Sports Grill & Lanes is open to the public, so join us for some dollar cosmic bowling on campus! For more information, call 316-978-3479.
Stop by the Rhatigan Student Center every Wednesday for the live music series, RSC Unplugged. RSC Unplugged for Wednesday, August 29 features Emily Strom from 11:00 a.m. to 1:00 p.m. in the RSC's Starbucks Lounge. Grab a cup of coffee and relax with some great music!
The "syzters" of Sigma Psi Zeta Sorority, Inc. would like to invite you out to our Fall 2018 Recruitment Week! Events will take place the week of September 10th, and full details can be found on our website at
www.wichitasigmas.com
or our Facebook page at
www.facebook.com/syz.alphatheta
Join Student Activities Council & Interfraternity Council at Walk A Mile, an event that promotes awareness of and action against sexual assault, gender violence and rape. Men walk in heels and women walk in tennis shoes to walk a mile in their shoes. Resources and free food will be provided by Wichita WagonMasters. Tuesday, August 28, 6:00 p.m. to 8:00 p.m. at the RSC North Patio. Preregistration is open on shockersync.
Stop by the Mini Wellness Fair 11 a.m. to 1 p.m. on September 12 on the RSC North Patio to learn about all of your resources on campus and enter to win a Fitbit watch.
From Wichita State Navigators: "Join the Wichita State Navigators for Nav Night every Thursday at 7:30pm in either RSC 233 or Hubbard 209. We exist to know Christ, make Him known, and help others do the same!"
From Christian Challenge: "Christian Challenge is a group of students who meet weekly to explore the life and teachings of Jesus. Christian Challenge meets every Thursday night at 7:30 PM at River Community Church (2130 N. Oliver)."
Chi Alpha Christian Fellowship is a student organization that meets every Tuesday at 7:00 p.m. in the Rhatigan Student Center. For more information, follow their Facebook page "Chi Alpha Wichita."
Wichita State University is a National Science Foundation (NSF) I-Corps site. The Shocker Innovation Corps nurtures and supports Wichita State entrepreneurial teams interested in accelerating their STEM ideas, research and product commercialization. Ideas/projects can originate from student or faculty work, research and institutional/industrial projects. Apply at
https://www.wsuventures.org/icorps
.
The Shocker Sports Grill & Lanes has great Welcomefest deals to start off the school year! From August 20 through August 31, enjoy $1.50 hot dogs, $3 per hour billiards, and $1.50 bowling games, even during cosmic bowling! Rental shoes are not included. Availability may vary due to group reservations and special events.
Turn the lights down and music up during cosmic bowling in the Shocker Sports Grill & Lanes, starting back up Friday, August 17! You can enjoy cosmic bowling from 8:00 p.m. to Midnight on Fridays and Saturdays for $2 per person, per game. Or stop by from 5:00 p.m. to 9:00 p.m. on Sundays to bowl for $1 per person, per game. Shoe rental is not included. Availability may vary due to group reservations and special events.
The choice is yours at the Shocker Store! They carry many textbook options for students, including new, used, rentals and e-books. Purchase your choice of textbook options for your fall classes in store or online at shockerstore.com.
Shocker PROUD helps create a welcoming environment for all who serve and are served by the university. The PROUD in Shocker PROUD stands for Professional, Responsive, Open, Understanding and Dependable. If we, as a campus community, can embrace and utilize tools that help us deliver on these promises to all within our community we will not only help celebrate and lift WSU's Strategic Enrollment initiatives to grow enrollment, but we will continue to develop an experience we can all be proud of.
Interested in joining an organization of the Multicultural Greek Council? Check out each organization's week!:
Chi Sigma Tau Fraternity Week: August 27-31
Kappa Alpha Psi Fraternity Week : September 3-8
Sigma Psi Zeta Sorority Week: September 10-14
Sigma Lambda Beta Fraternity Week: September 10-14
Kappa Delta Chi Sorority Week: September 16-22
Sigma Gamma Rho Sorority Week: November 11-17
Delta Sigma Theta Sorority and Omega Psi Phi Fraternity Week: November 4-10
Stop by the Shocker Sports Grill & Lanes in August to try their Burger of the Month, the Bleu Cheese Burger! The burger patty is stuffed with bleu cheese crumbles and then it's topped with bacon and bleu cheese dressing.
Enjoy root beer, a hot dog, valuable info about the Career Development Center and a chance to network with more than 30 employers at the Career Connection Root Beer Kegger, August 29, 11:00 a.m. – 1:00 p.m. on the lawn in front of the RSC! Must present WSU student ID. Dress is casual. More information available at
wichita.edu/kegger
.
Get your team of 2-6 people together to show your skills! Solve puzzles and riddles about the library to break into a locked box. Beat the times of other teams and get your name on the leaderboard! August 29 from 11:00 a.m. to 12:00 p.m. in Ablah Library, Room 125.
Members of the Shocker Sports Grill & Lanes Eat.Drink.Play. Rewards Program can enjoy free billiards from 4:00 p.m to 7:00 p.m. on Fridays during the month of August. Not a rewards member? Joining is free and easy, simple stop in and ask!
From the Called to Greatness organization: "Come kick off the semester with live worship inside Grace Memorial Chapel on the WSU campus on Friday, August 31st from 7-9pm. There is no agenda. All are welcome. Come enjoy Jesus and time in prayer and worship with other college students!"
From the Called to Greatness organization: "Your life matters. You are called to be a leader and an influencer. Join us as we discuss the person of Jesus and the plan that he has for your life. Join us this Thursday, August 30th from 7-9pm in room 258 of the Rhatigan Student Center."
Working on your tenure and promotion dossier? Want to determine the impact of your research? Come to one of the University Libraries' "Citation Searching and Altmetrics for T&P Dossiers" workshops. The workshop will be given 2 more times in Ablah, Room 217: Thursday, August 30, 2018 from 3:00 p.m. to 4:30 p.m. For more information and to register go to
https://wichita.libcal.com/calendar
.
Join the Multicultural Greek Council for as each Multicultural Greek chapter showcases their deep rooted traditions in stepping and strolling at Yard Show! Thursday, August 30, from 12:00 p.m to 1:00 p.m. at the RSC North Patio. For more information, email 
wichita.mgc@gmail.com
.
Interested in going Greek? Learn more about each Multicultural Greek chapter on campus at the Multicultural Greek Council Informational! Monday, August 27, from 5:00 p.m to 7:00 p.m. in the RSC Ballroom. For more information, email 
wichita.mgc@gmail.com
.