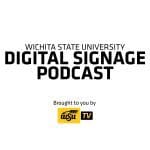 Here are your Wichita State University digital signage announcements for Monday, August 6th through Sunday, August 12th, 2018:
Enjoy root beer, a hot dog, valuable info about the Career Development Center and a chance to network with more than 30 employers at the Career Connection Root Beer Kegger, August 29, 11:00 a.m. – 1:00 p.m. on the lawn in front of the RSC! Must present WSU student ID. Dress is casual. More information available at
wichita.edu/kegger
.
Get your team of 2-6 people together to show your skills! Solve puzzles and riddles about the library to break into a locked box. Beat the times of other teams and get your name on the leaderboard! August 16, 21, and 29 from 11:00 a.m. to 12:00 p.m. in Ablah Library, Room 125.
Members of the Shocker Sports Grill & Lanes Eat.Drink.Play. Rewards Program can enjoy free billiards from 4:00 p.m to 7:00 p.m. on Fridays during the month of August. Not a rewards member? Joining is free and easy, simple stop in and ask!
Some exciting changes are coming to Mega-Bytes, the convenience store located in the Experiential Engineering Building. The store will be transforming into a self-service micro-market, with new products! So, they will always be accessible as long as the building is open. You will be able to swipe in with WSU ID. The store will be closing July 28 for the changeover and opening back up mid-August.
Working on your tenure and promotion dossier? Want to determine the impact of your research? Come to one of the University Libraries' "Citation Searching and Altmetrics for T&P Dossiers" workshops. The workshop will be given 2 more times in Ablah, Room 217: Thursday, August 9, 2018 from 4:30 p.m. to 6:00 p.m.; and Thursday, August 30, 2018 from 3:00 p.m. to 4:30 p.m. For more information and to register go to
https://wichita.libcal.com/calendar
.
Join the Multicultural Greek Council for as each Multicultural Greek chapter showcases their deep rooted traditions in stepping and strolling at Yard Show! Thursday, August 30, from 12:00 p.m to 1:00 p.m. at the RSC North Patio. For more information, email 
wichita.mgc@gmail.com
.
Interested in going Greek? Learn more about each Multicultural Greek chapter on campus at the Multicultural Greek Council Informational! Monday, August 27, from 5:00 p.m to 7:00 p.m. in the RSC Ballroom. For more information, email 
wichita.mgc@gmail.com
.
Students, the Shocker Sports Grill & Lanes has immediate openings for their Guest Server and Kitchen Helper student positions. Apply online at
www.wichita.edu/rschr
. Enjoy a fun atmosphere and great benefits like discounts at the Shocker Store and dining locations.
University Libraries will be holding IP for Beginners workshops on Friday, August 17 from 11:00 a.m. to 1:00 p.m. in Ablah Library, RM 217. For more information, visit
libresources.wichita.edu/ers