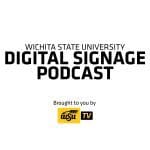 Here are your Wichita State University digital signage announcements for Monday, February 10th through Sunday, February 16th, 2020:
Student Affairs invites students, faculty and staff to Shockers After Dark. Come by the Rhatigan Student Center (RSC) for 2 hours of fabulous FREE fun! For more information, please contact Student Affairs at 978-3021 or visit wichita.edu/studentaffairs.
Stop by the Rhatigan Student Center every Wednesday for the live music series, RSC Unplugged. RSC Unplugged for Wednesday, February 12 features Tom Page Trio from 11 a.m.-1 p.m. in the RSC's Starbucks Lounge. Grab a cup of coffee and relax with some great music!
Soup is back at the Shocker Sports Grill & Lanes! A different soup will be featured each week, Monday-Friday. Grab a cup for $2.99 or a bowl for $3.99. For February 10-14, the Soup of the Week is Creamy Chicken.
Shocker Sight: WSU Homecoming 2020 takes place February 10-16 with a week full of events. From Shocker Athletics to trivia night at Fuzzy's, there is sure to be an activity that catches your eye. For full details, visit shockeralumni.org/homecoming.
Confidential free HIV testing with results in 5 minutes will be available from 1-4 p.m. on Tuesday, March 3rd in RSC Room 258. The testing is sponsored by Positive Directions Inc., WSU Student Health Services, and WSU Office of Diversity and Inclusion.
Grab a slice of pizza at the Careers for a Cause career fair on Feb. 26 from 11 a.m. – 1 p.m. in the RSC Ballroom and chat with employers from Wichita and the surrounding area in the nonprofit and public service sector. Don't miss out on a chance to follow your passion and help those around you. Bring your WSU ID and copies of your resume.
For students who self-identify with the autism community or who may be questioning if they fall on the spectrum, join Counseling and Prevention Services and Disability Services for the Autism Spectrum Support Group. Group meets Thursdays from 1-2pm in Grace Wilkie Hall room 203. No appointment needed!
Register and join us for the Higher Education/Student Affairs Grad Weekend to learn more about and interview for graduate assistantships and the program. Registration is due by Sunday, March 8 at 11:59 p.m.
Check in with your mental health by taking a quick, online mental health screening from Counseling and Prevention Services. Visit wichita.edu/caps and select the "Mental Health Screenings" link on our page header.
Wichita State Track is back in action starting with an indoor meet at the Heskett Center January 30th and 31st. Later this year they will transition to the outdoors to for two additional meets. Student admission is free!
There's a lot to love about your library! Join us on Friday, February 14th to get to know your librarians from Research and Instruction, Technical Services, Special Collections and University Archives, and more! We would love to talk about the resources we have to offer and show you the technology we have available for you to use. Open to WSU students, faculty, and staff. Light refreshments provided.
WSU Libraries presents the Entrepreneurship Research Series for Spring 2020 – helping inventors and entrepreneurs learn how to protect their intellectual property and support their business through research. Upcoming dates include: Tuesday, Feb. 11 – "Intellectual Property Basics;" Tuesday, Feb. 18 – "Trademark Basics: Protect Your Business Name." (Workshops take place 5:30 – 7 p.m. Ablah Library, Room 217).
Student Health has been closely monitoring the outbreak of coronavirus that originated in Wuhan, China. To learn how to protect yourself and to get the latest news about the coronavirus outbreak, visit Student Health's Travel and Health Advisory web page: https://www.wichita.edu/services/studenthealth/Travel_Health.php
Student Health Services offers an easy and convenient way to manage your health with the myShockerHealth portal. 24 hours a day, you can book appointments, exchange secure messages with providers, request prescription refills, print account statements, pay your bill, print/view immunization records, and complete forms by logging on with your WSU ID and password. You can access the portal at wichita.edu/shs.
For more information about proper hand washing techniques, when you should wash your hands, and more, visit the CDC web page cdc.gov/handwashing.
Student Health Services laboratory offers many in-house services including rapid testing for flu, strep, and urinalysis with 5 minute results. Sexually transmitted illnesses, anemia, thyroid, pap smears are examples of the many tests that are collected at SHS and sent to an outside reference laboratory. The SHS laboratory is licensed by the State of Kansas and the Clinical Laboratory Information Act (CLIA).
Join the Community Service Board volunteering at the United Way GIV Warehouse. Volunteers will meet at the GIV Warehouse to sort and organize items so that they may be given to local nonprofits. Sign-up at Wichita.edu/volunteerICT.
Hey students, Shocker Baseball is right around the corner! You have plenty of chances to support your Shockers at home, so come on out to Eck Stadium! Wichita State students get in free with your Shocker ID!
Join the Community Service Board for Wednesdays at the Diner on Wednesday, February 26th from 5:00-8:00pm at the Lord's Diner. Transportation is available. Sign up at Wichita.edu/volunteerICT.
Join the Community Service Board for Mentoring Mondays on Monday, February 24th from 4:00-6:00pm at the Boys and Girls Club. Sign up at Wichita.edu/volunteerICT.
Join the Community Service Board for Senior Saturday on Saturday, February 22nd from 9:00-11:00am at Larksfield Place. Sign up at Wichita.edu/volunteerICT.
Join the Community Service Board for Wednesdays at the Diner on Wednesday, February 12th from 5:00-8:00 p.m. at the Lord's Diner. Transportation is available for this event. Sign up at Wichita.edu/volunteerICT.
A support group facilitated by the Wichita Area Sexual Assault Center in partnership with CAPS. This group will focus on healing from traumatic experiences. Group meets on Thursdays from 4-5pm in RSC 007. No appointment needed.
Students, plan to attend Shocker Store Ring Days from 10 a.m.-3 p.m. February 11 and 12 in the RSC Shocker Store. Purchase a class ring, order graduation announcements and more!
Try the Shocker Sports Grill & Lanes Burger of the Month for February- the Barnyard Burger! It's a burger patty, topped with a chicken patty, two strips of bacon and American cheese.
Members of the Shocker Sports Grill & Lanes Eat.Drink.Play. Rewards Program can enjoy $2 hot dogs every Wednesday in February!
Mark your calendars for the Shocker Store's next one-day-only sale! On Tuesday, February 11, starting at 10 a.m., the Shocker Store will have two crew sweatshirts for $15.00 each, while supplies last. These will sell out, so hurry in! Limit 3 per customer. Sale is in store at RSC location only. Offer not valid with other discounts or promotions and all sales are final.
Come on out to C. Howard Wilkins Stadium this spring to support your 2020 Shocker Softball team. Conference opponents coming to Wichita include UCF, Tulsa, and Memphis while the non-conference slate includes Arkansas, Oklahoma State, and Oklahoma. All Shocker students get into the games for free with a valid Shocker ID!
What is design thinking? Join the Graduate School with Kristyn Smith, Design Educator at the Institute of Innovation, for Designing Better Things on Thursday, February 20, 5:00-6:30 pm in the Pike Room (266) of the RSC for a quick overview of how to utilize design thinking processes to help design for the future!
Join the Graduate School and presenter Danielle Johnson, Assistant Director of the Office of Diversity and Inclusion, for lunch on Wednesday, February 12, 12:00-1:30 pm in the Harvest Room (142) of the RSC for Privilege and Oppression, an interactive workshop that focuses on both privilege and oppression where you will participate in the Privilege Walk and the matrix of oppression activities.
The Shocker Store is home to the official pink tee for the Breast Cancer Awareness games for the men's and women's basketball teams! The shirt is just $12.00 and is available in the RSC, Braeburn Square and Koch Arena Shocker Store locations, as well as online at shockerstore.com. The women's game is February 1 and the men's game is February 20. Grab your tee and wear pink for the cause!
Come and create flowers, donating Valentine's Day cards to children in hospitals, and take a picture at our photo booth with your crafts. For more information about our sponsored events, please visit wichita.edu/sac or contact us at sac@wichita.edu
Wichita State University has a new exchange partner university in South Korea. Beginning fall 2020, students will be able to study abroad at Dankook University as part of our exchange program. For fall 2020, Feb 15th is the deadline to apply.
Just in time for V-Day, stop by to learn about safe sex with the Student Activities Council and Student Health Services! We'll be in the RSC 10:30am – 12:30pm on February 12 with free condoms, activities, and information about safe sex and consent.
The Shocker Innovation Corps nurtures and supports Wichita State entrepreneurial teams interested in accelerating their STEM ideas, research and product commercialization. Applicants that are accepted into the Spring 2020 cohort will receive up to $2,150 in seed funding, customer validation training, mentoring from local experts, access to entrepreneurial resources, and networking with the local innovation ecosystem. Applications for the Spring 2020 cohort are due February 12th.
The goal of Gender Diversity Training is to provide a learning environment focused on increasing awareness and knowledge for people wishing to be an ally of Trans individuals. To attend, register at wichita.edu/transgender.
The goal of Safe Zone Training is to provide a safe and supportive network to the LGBTQ+ (lesbian, gay, bisexual, transgender and queer) communities at Wichita State University. Providing a welcoming environment for LGBTQ+ persons establishes an identifiable network of individuals who can provide support, information and a safe place on- or off-campus. To attend, register at wichita.edu/safezone.
Apply for Senior Honors today! Applications are due February 14th, 2020. Learn more at wichita.edu/seniorhonors.
Join WASAC and CAPS this semester for support for healing from traumatic experiences this semester. Group members will explore the healing process, coping mechanisms, and learn how to identify and manage triggers. Group will meet, Thursdays, 4-5pm, in RSC 007, starting January 23rd.
Join Counseling and Prevention Services again this semester for Keep Calm & Breathe On! Drop in to build structured relaxation time into your life and learn techniques to do relaxation on your own. You will be led in meditation, mindfulness and relaxation practices.
WSU students have an exciting opportunity to connect with employers who are looking to hire interns, full-time employees, and other applied learning positions at Biz Fest. From 11 a.m. to 12 p.m. the networking lunch will take place and then the career fair will take place from 12 – 2 p.m. Make sure to register for lunch before Feb. 10! Visit Handshake for more information.
Pee for Pizza is a free sexually transmitted disease-testing event for chlamydia and gonorrhea. Walk in and submit a urine specimen, and walk-out with free pizza and piece of mind from 1-4 p.m. Wednesday, February 19th.
Friday poker returns to the Shocker Sports Grill & Lanes starting January 24! Join their FREE Texas Hold 'Em Tournaments at 11 a.m. and 2 p.m. every Friday. $10 cash prize for every weekly tournament and earn points to be eligible for the semester championship which pays $100 to the winner. For more information, call 316-978-3479.
Tuesday Talks with Sandy and Student Health Services will be at 1st floor RSC tabling on Tuesdays to answer health questions and assist in making appointments. FREE stuff will be available!
Put your game face on and play some video games and board games with your fellow LGBTQ+ Shockers at GAYme Night!
Anthony Hinton is the first keynote speaker of this semester's Diversity Lecture Series. Hinton was released in April 2015 after spending 30 years on Alabama's death row for a crime he did not commit. He was released with the help of the Equal Justice Initiative, of which he is now an employee. He now serves as EJI's Community Educator and travels both nationally and internationally to speak about his experience. Get your FREE TICKETS at wichita.edu/odishop.
Students grab your tickets for the final 7 remaining home games! Get them at any of the 8 student ticket pick-up locations. Student tickets are FREE!
Learn more about local nonprofits and ways that you can get involved in our community. The Community Service Board meets every Thursday afternoons from 3:30-5:00pm in Room 142 of the RSC. These meetings are open to all WSU faculty, staff and students. Preregistration is not required. To find out more visit our website at Wichita.edu/CSB. For questions, email: CSB@wichita.edu or call 316-978-3022.
Women's Tennis open their home schedule against K-State on January 31st at 1:00pm. The Shockers will have 11 home games this year! Tickets are FREE. Visit GoShockers.com for more details.
You Can Help Prevent Suicide with #WSUWeSupportU Preventing Suicide. Learn how you can support your community with the #WSUWeSupportU Preventing Suicide training. Each training lasts an hour and a half and gives yo uthe tools you need to assist someone in need through the Share, Ask, Support method. To sign up, visit the myTrainings tab on your myWSU or go to wichita.edu/SuicidePrevention.
It is YOUR time to Lead The Way To Make a Difference. Are you interested in joining the Student Government and looking for a leadership position on campus? It is now finally time to take action and declare yourself a candidate in the 2020 Elections! This is a great opportunity to give back to campus and allow your leadership skills to shine. Learn more at wichita.edu/sgaelections.