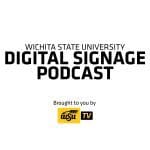 Here are your Wichita State University digital signage announcements for Monday, February 12th through Sunday, February 18th, 2018:
I Love You Because presented by WSU School of Performing Arts Feb. 14-17 at 7:30 pm, Feb. 18 at 2:00 pm at the Welsbacher Theatre. Tickets are $15, $12 and $10; WSU students receive 1 free ticket with WSU student ID. For tickets call 978-3233.
The Black Student Union is having its first ever Ebony Ball. This event will take place in Beggs Ballroom at 8pm on February 24th. The theme will be Black Excellence. The Ebony Ball is a formal event that celebrates the beauty and culture of blackness. Tickets can be purchased at the door for 10 dollars and 7 dollars for members.
The Rhatigan Student Center is joining up with other WSU departments on Friday, February 16 as they celebrate Random Acts of Kindness Day on campus! Random surprises will be happening throughout campus that day, so be on the lookout! Share your Shocker kindness with us that day using #ShockerKindness. Spread the kindness on campus!
Stop by the Rhatigan Student Center every Wednesday for the live music series, RSC Unplugged. RSC Unplugged for Wednesday, February 14 features Patz from 11 a.m.-1 p.m. in the RSC's Starbucks Lounge. Grab a cup of coffee and relax with some great music!
The "Introduction to Patents" workshop will introduce new inventors to types of patents and applications, patent eligibility, parts of a patent, how to find free assistance, and more.​ Monday, February 19 at Hughes Metroplex, Entrance B.
Don't miss out on the Advising Open House for First-Year Students on Wednesday, February 28th! Who can say no to free food and the chance to win prizes, including a smart TV? For more information visit www.wichita.edu/fyopenhouse.
In the "Introduction to EndNote" workshop, learn to use Endnote to upload citation data from library databases, create new citations in various citation styles, organize citations, and insert citations into a MS Word document. Included in the Graduate School Professional Development Series. Friday, February 23 in Ablah Library, Room 217.
In the "Graphic Design Tools for Your Small Business" workshop, get an overview of freely available graphic design software programs and their application to small businesses including promotional flyers, brochures and mailers, business cards, professional presentations, and social media posts. Basic design principles and branding considerations will also be discussed. Tuesday, February 27 in Ablah Library, Room 217.
An African-style Cirque du Soleil, Cirque Zuma Zuma will feature an array of never before seen talent mixed with the traditional acts associated with African variety arts. Come out to experience this once in a lifetime performance, which is fun for all ages! Wednesday, February 28, 6 p.m., CAC Theater Free to WSU students with Shocker ID, $3 faculty/staff; $5 general admission and $1 for kids 12 and under. For more information, email sac@wichita.edu.
"Get Out" is a suspense-filled experience as it showcases the many hidden messages of racism people of color experience in real life. Come out and enjoy this thriller with your friends and learn more about the micro-aggressions experienced by people of color in a discussion following the film. Thursday, February 15, Hubbard Hall 208, 7 p.m. and 9:30 p.m. This film is rated R. Admission is free to WSU students with Shocker ID, $3 faculty/staff; $5 general admission and $1 for kids 12 and under.
In the "E-Books Make Research Easier" workshop, learn about functions of the Libraries' two largest ebook databases, eBook Collection from EBSCOhost and Ebook Central from ProQuest, that make research easier: for example, searching for keywords within an ebook, highlighting, attaching virtual sticky notes to specific pages, generating draft citations for an ebook, saving an ebook to the cloud for easy access, and even looking up an unfamiliar word in a dictionary. Thursday, February 15 in Ablah Library, Room 217.
In the "Group Research Strategies for Success" workshop, discover library database tools, Google Docs and other resources to organize and share materials for group projects. Friday, February 16 in Ablah Library, Room 217.
Student Health Services and myShockerHealth, for all your health care needs. To set up an appointment call 316-978-3620 or visit our online portal at wichita.edu/shs. Student Health provides a health clinic and pharmacy, women's and men's health services, contraception, nutrition counseling, vaccinations, immunizations, allergy shots and laboratory diagnostic testing.
Feeling Sick? Getting better is just one click away. Head to wichita.edu/shs and click on "Log into myShockerHealth" to access the myShockerHealth portal where you can set appointments, send secure messages to health care providers, look at vaccinations and much more.
The Kansas Entrepreneurship Challenge will be taking place this year on April 24. We will be selecting and sending two teams this year from Wichita State University. For any questions, contact Nancy at nancy.kersenbrock@wichita.edu or 316.978.6269.
Come chat with Wichita area employers at Career Chats: Employer Meet-Up. February 28 from 12 – 1:30 p.m. in RSC, Room 142.
Meet up with employers from Wichita and the surrounding area in the non-profit and public service sector at Careers For a Cause. February 27, 1:30 – 3:30 p.m., RSC, 3rd Floor.
Join Community Service Board in Mentoring Mondays! Volunteers are needed to provide tutoring for youth in variety of subjects. No tutoring experience is required. To volunteer, please visit wichita.edu/CSBvolunteer.
Do you want to work or volunteer with food? This free Food Handler's Safety Class, hosted by the City of Wichita Department of Environmental Health, will provide students with the training and certification to safely work with food. Participants who attend the whole class will receive a Food Handler's Card that is valid for 4 years. Wednesday, February 21 from 6:00 p.m. to 7:30 p.m. in RSC, Room 258.
Join the Community Service Board with Food Bank Fridays at the Kansas Food Bank from 1:30-3:30 p.m. Friday, Feb. 2. Carpooling will be coordinated with departures at 1 p.m. from the RSC. Sign up at wichita.edu/CSBvolunteer.
Stop by the Shocker Sports Grill & Lanes to try their Burger of the Month for February! This month's burger is "The Big Chilly", topped with cheddar cheese and made-from-scratch chili!
EAT.DRINK.PLAY. Rewards Program members in the Shocker Sports Grill & Lanes can once again enjoy a bonus discount of 10% on Fridays in February. Receive your rewards level discount plus an additional 10% every Friday! Not a member? Joining is free and easy. Simply visit the sports grill counter or customer service to register.
University Libraries and REL 311G present an exhibit of student posters from Dr. Rannfrid Thelle's "Archaeology and the Bible" Fall 2017 course. The poster exhibit will be up February 12- February 26 in the main corridor of Ablah Library. Student presenters will be available to discuss their projects and answer questions from 12-2 pm Tuesday, February 13.
Sandra Beasley is the author of 3 poetry collections. Beasley is on the faculty of the low-residency MFA program at the University of Tampa, Florida. Join us for "Writing Now/Reading Now: Sandra Beasley," Thursday, February 15, Reception begins at 5:30 p.m., Reading begins at 6 p.m. Admission is free and open to the public.
How can you tackle big issues such as species conservation and human rights? Make your mark on the world during Invent for the Planet. You will focus on developing products to make the world a better place for the inventors of tomorrow. "Invent for the Planet" February 16 through February 18. Follow the link to Sign Up – https://docs.google.com/forms/d/e/1FAIpQLScrRdnUdOofEzykr9TQzhcscX-PRYzTlCmUB7yiollCdVEusw/viewform
Have you heard about WU Coin? WU Coin hopes to be the first cryptocurrency-based business model that is proposed to the WSU as an alternative for Shocker Dollars. Head to facebook.com/shockerdk for more information.
Established during an era of de-facto racial segregation, Wichita's Dunbar Theater became a resource for local African Americans. This presentation will examine the birth, development, decline, and resurrection of one of Wichita's iconic community institutions. "The History of Wichita's Dunbar Theater," Tuesday, February 12 at 6:00 p.m. in Hubbard Hall, Room 208.
In the "Trademark Basics: Protect Your Business Name" workshop, discover the difference between a trademark, service mark, and registered mark. Then, learn how to search for existing marks and logos and walk through the online trademark application process. Tuesday, February 13, in Ablah Library Room 217.
February 14 is International Condom Day and also Valentines Days! Join Student Health Services and Student Activities Council as we discuss the importance of safe sexual health practices. This event will be on Wednesday, February 14 from 11 a.m. – 1 p.m. in RSC 1st Floor. There will be free condoms. For more information please visit wichita.edu/sac.
Commuters are a large part of the shocker nation and SAC wants to show our appreciation with the one thing every college student needs; Coffee! SAC invites all shocker commuters to stop by and enjoy free coffee and hot chocolate on Wednesday, February 21st from 11a.m.- 1p.m on the 1st floor of the RSC!
The goal of Safe Zone Training is to provide a safe and supportive network to the lesbian, gay, bisexual, transgender, questioning and ally (LGBTQA) community. To provide safe spaces on campus that are highly visible and easily identifiable where LGBTQA persons find that support and understanding is the key and where bigotry and discrimination are not tolerated. For more information and to register, go to wichita.edu/safezone.
Love tattoos but can't commit? Then take one for a test drive at Student Activity Council's Henna Tattoo event, co-hosted by the Indian Student Association. Stop by the RSC 1st floor on Tuesday February 20th between 11am and 1pm to get a free henna tattoo and learn about their cultural background. For more information, please contact SAC at sac@wichita.edu or visit our website at wichita.edu/sac.
The virtual career fair will be held online on February 21 from 9 a.m. to 3 p.m. This event is exclusively for college students seeking internships and cooperative education. Learn more at wichita.edu/virtualfair.
Apply now for the Shocker New Venture Competition! SNVC offers students the chance to win start-up capital for their business idea. Hurry and apply now, applications close March 5th at noon. Learn more at www.wichita.edu/snvc.
WSU business students have an exciting opportunity to connect with employers who are interested in hiring interns, co-op students, and full-time employees. Business professional dress is required. Bring copies of your resume and your WSU ID. February 13, 2018 from 3:30 to 6:30 p.m. in Koch Arena.
Interested in going Greek? This is your chance! Learn more about each of the organizations under the Multicultural Greek council during their respective weeks:
– Kappa Alpha Psi Fraternity will be hosting their week February 12-16,
– Zeta Phi Beta Sorority, Inc. will be hosting theirs February 26-March 2,
– Delta Sigma Theta Sorority, Inc.'s week will be on March 5-9,
– and Alpha Kappa Alpha Sorority's week will be on March 12-16.
To learn more, email wichita.mgc@gmail.com.