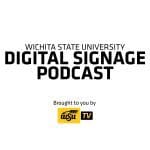 Here are your Wichita State University digital signage announcements for Monday, February 19th through Sunday, February 25th, 2018:
Thursday, February 22 in Starbucks Lounge at the RSC, International Student Union (ISU) is organizing "Karaoke with ISU", to showcase your singing talent. Send us the YouTube Karaoke links of the songs you wish to sing to Nuwanthi at isu@wichita.edu or 316-202-9051. We also have recruitment drive for a few officer positions in ISU.
In a time of instant authorship and digital-born content, learn best practices for using others' copyrighted work and learn how to protect your own copyrighted work. The "Copryight in the Digital World" workshop will include information such as usage rights, fair use in an online environment, open license resources, works in the public domain, obtaining permission, and copyright registration. Thursday, March 1 from 2:00 p.m. to 3:30 p.m. in Ablah Library, Room 217.
In "Search Strategies for Applied Science Research" explore the research process in-depth with example projects while discovering advanced tools and resources along the way. Friday, March 2 from 12:00 p.m. to 1:15 p.m. in Ablah Library, Room 217.
Save at the University Bookstore with your Shocker Baseball ticket stubs! Each time the Shockers hit a home run in a home game, bring your ticket stub to the University Bookstore the next day and receive 10% off one WSU imprinted item, up to 30% off for 3 or more home runs. May not be combined with any other discount or promotion. Some exclusions apply. Hit those home runs, Shockers!
Save the date for $7.00 t-shirts from the University Bookstore in honor of St. Patty's Day! One day only, on Thursday, March 15, the Bookstore will have three different shirt styles available, while supplies last. Limit three per customer and not valid with any other discounts. Luck of the Shockers Sale is in store only.
Stop by the Rhatigan Student Center every Wednesday for the live music series, RSC Unplugged. RSC Unplugged for Wednesday, February 21 features Tom Page Trio from 11 a.m.-1 p.m. in the RSC's Starbucks Lounge. Grab a cup of coffee and relax with some great music!
Friday, March 9, hear the stories from the DEA agents who captured Pablo Escobar and served as inspiration for the Netflix series "Narcos." Visit wichita.edu/sac for ticket pricing and more information.
Undecided or want to switch your major? Major Meet-Up will help you match your interests to possible majors at WSU. Come chat with academic advisors and gain valuable next steps in your major direction! March 6, 11 a.m. to 1 p.m., RSC 142.
Educational and Interactive heath fair at the Heskett Center upstairs Gymnasium. Join hundreds of your fellow shockers as you participate in aerobic demonstrations, receive medical screenings and wellness tips from over 50 vendor booths from Wichita State University departments and around the community. February 28, at 11:00 a.m.
Enjoy DVDs and Donuts from 10:00 a.m. to 2:00 p.m. on the 1st Floor of Ablah Library as we celebrate the rebranding of the Shocker DVD Collection. Pick up a donut and scan the over 600 popular movies and TV shows available for checkout by WSU students, faculty and staff free of charge. The Shocker DVD Collection is sponsored by the Student Activities Council, Student Government Association and University Libraries.
Waffles & Onesies, Thursday, March 8, 9:00pm-11:30pm at the Shocker Sports Grill and Lanes (RSC). FREE Breakfast, Bowling, Billiards and Board Games with a WSU Id card.
The Black Student Union is having its first ever Ebony Ball. This event will take place in Beggs Ballroom at 8pm on February 24th. The theme will be Black Excellence. The Ebony Ball is a formal event that celebrates the beauty and culture of blackness. Tickets can be purchased at the door for 10 dollars and 7 dollars for members.
Don't miss out on the Advising Open House for First-Year Students on Wednesday, February 28th! Who can say no to free food and the chance to win prizes, including a smart TV? For more information visit www.wichita.edu/fyopenhouse.
In the "Introduction to EndNote" workshop, learn to use Endnote to upload citation data from library databases, create new citations in various citation styles, organize citations, and insert citations into a MS Word document. Included in the Graduate School Professional Development Series. Friday, February 23 in Ablah Library, Room 217.
In the "Graphic Design Tools for Your Small Business" workshop, get an overview of freely available graphic design software programs and their application to small businesses including promotional flyers, brochures and mailers, business cards, professional presentations, and social media posts. Basic design principles and branding considerations will also be discussed. Tuesday, February 27 in Ablah Library, Room 217.
An African-style Cirque du Soleil, Cirque Zuma Zuma will feature an array of never before seen talent mixed with the traditional acts associated with African variety arts. Come out to experience this once in a lifetime performance, which is fun for all ages! Wednesday, February 28, 6 p.m., CAC Theater Free to WSU students with Shocker ID, $3 faculty/staff; $5 general admission and $1 for kids 12 and under. For more information, email sac@wichita.edu.
Student Health Services and myShockerHealth, for all your health care needs. To set up an appointment call 316-978-3620 or visit our online portal at wichita.edu/shs. Student Health provides a health clinic and pharmacy, women's and men's health services, contraception, nutrition counseling, vaccinations, immunizations, allergy shots and laboratory diagnostic testing.
Feeling Sick? Getting better is just one click away. Head to wichita.edu/shs and click on "Log into myShockerHealth" to access the myShockerHealth portal where you can set appointments, send secure messages to health care providers, look at vaccinations and much more.
The Kansas Entrepreneurship Challenge will be taking place this year on April 24. We will be selecting and sending two teams this year from Wichita State University. For any questions, contact Nancy at nancy.kersenbrock@wichita.edu or 316.978.6269.
Come chat with Wichita area employers at Career Chats: Employer Meet-Up. February 28 from 12 – 1:30 p.m. in RSC, Room 142.
Meet up with employers from Wichita and the surrounding area in the non-profit and public service sector at Careers For a Cause. February 27, 1:30 – 3:30 p.m., RSC, 3rd Floor.
Join Community Service Board in Mentoring Mondays! Volunteers are needed to provide tutoring for youth in variety of subjects. No tutoring experience is required. To volunteer, please visit wichita.edu/CSBvolunteer.
Do you want to work or volunteer with food? This free Food Handler's Safety Class, hosted by the City of Wichita Department of Environmental Health, will provide students with the training and certification to safely work with food. Participants who attend the whole class will receive a Food Handler's Card that is valid for 4 years. Wednesday, February 21 from 6:00 p.m. to 7:30 p.m. in RSC, Room 258.
Stop by the Shocker Sports Grill & Lanes to try their Burger of the Month for February! This month's burger is "The Big Chilly", topped with cheddar cheese and made-from-scratch chili!
EAT.DRINK.PLAY. Rewards Program members in the Shocker Sports Grill & Lanes can once again enjoy a bonus discount of 10% on Fridays in February. Receive your rewards level discount plus an additional 10% every Friday! Not a member? Joining is free and easy. Simply visit the sports grill counter or customer service to register.
Have you heard about WU Coin? WU Coin hopes to be the first cryptocurrency-based business model that is proposed to the WSU as an alternative for Shocker Dollars. Head to facebook.com/shockerdk for more information.
Established during an era of de-facto racial segregation, Wichita's Dunbar Theater became a resource for local African Americans. This presentation will examine the birth, development, decline, and resurrection of one of Wichita's iconic community institutions. "The History of Wichita's Dunbar Theater," Tuesday, February 12 at 6:00 p.m. in Hubbard Hall, Room 208.
Commuters are a large part of the shocker nation and SAC wants to show our appreciation with the one thing every college student needs; Coffee! SAC invites all shocker commuters to stop by and enjoy free coffee and hot chocolate on Wednesday, February 21st from 11a.m.- 1p.m on the 1st floor of the RSC!
The goal of Safe Zone Training is to provide a safe and supportive network to the lesbian, gay, bisexual, transgender, questioning and ally (LGBTQA) community. To provide safe spaces on campus that are highly visible and easily identifiable where LGBTQA persons find that support and understanding is the key and where bigotry and discrimination are not tolerated. For more information and to register, go to wichita.edu/safezone.
The virtual career fair will be held online on February 21 from 9 a.m. to 3 p.m. This event is exclusively for college students seeking internships and cooperative education. Learn more at wichita.edu/virtualfair.
Apply now for the Shocker New Venture Competition! SNVC offers students the chance to win start-up capital for their business idea. Hurry and apply now, applications close March 5th at noon. Learn more at www.wichita.edu/snvc.
Interested in going Greek? This is your chance! Learn more about each of the organizations under the Multicultural Greek council during their respective weeks:
– Zeta Phi Beta Sorority, Inc. will be hosting theirs February 26-March 2,
– Delta Sigma Theta Sorority, Inc.'s week will be on March 5-9,
– and Alpha Kappa Alpha Sorority's week will be on March 12-16.
To learn more, email wichita.mgc@gmail.com.