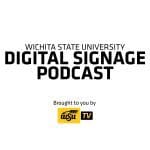 Here are your Wichita State University digital signage announcements for Monday, January 13th through Sunday, January 19th, 2020:
Are you looking for a way to become involved this semester? VolunteerICT has hundreds of volunteer opportunities from local nonprofits throughout Wichita looking for volunteers. All students, faculty, and staff have an account through myWSU. Set-up is simple, just visit our website at Wichita.edu/volunteerICT. For questions email: volunteerICT@wichita.edu 
Wu's Big Event XII Saturday, February 8th, 2020 9:00 am-1:00 pm Registration is free and includes breakfast, lunch, t-shirt, and transportation to and from service sites. Register at: Wichita.edu/BigEvent Have questions? Email CSB@Wichita.edu
You Can Help Prevent Suicide with #WSUWeSupportU Preventing Suicide. Learn how you can support your community with the #WSUWeSupportU Preventing Suicide training. Each training lasts an hour and a half and gives you the tools you need to assist someone in need through the Share, Ask, Support method. To sign up, visit the myTrainings tab on your myWSU or go to wichita.edu/SuicidePrevention.
Applesauce! SAC is throwing a Hop! Join Student Activities Council for a swanky Roaring 20's Party to celebrate the new decade! Go full Gatsby and wear your finest 20s attire. Free to WSU students with Shocker ID, $3 faculty/staff; $5 general admission and $1 for kids 12 and under. No advance ticket sales. Cash or check only accepted at the door. For more information about SAC sponsored events, please visit wichita.edu/sac or contact us at sac@wichita.edu.
Soup is back at the Shocker Sports Grill & Lanes just in time for the cooler weather! A different soup will be featured each week, Monday-Friday. Grab a cup for $2.99 or a bowl for $3.99. For January 13-17, the Soup of the Week is Broccoli Cheese.
Take advantage of some great Welcomefest Deals in the Shocker Sports Grill & Lanes from January 21-31! Enjoy $2 hot dogs, $2/hour billiards and $2 bowling games with free rental shoes! Availability may vary due to group reservations and special events. Offers not valid for group reservations.
Enjoy $1.50 cosmic bowling games with FREE rental shoes on Martin Luther King, Jr Day (Monday, January 20) in the Shocker Sports Grill & Lanes. Hours are 11 a.m.-9 p.m. that day. Open to the public!
Stop by the Shocker Sports Grill & Lanes in January to try their Burger of the Month, the Wild West Burger! It's topped with your choice of cheese, an onion ring, and BBQ sauce. Want a meatless option? Ask for it with our beanie burger!
Members of the Shocker Sports Grill & Lanes Eat.Drink.Play. Rewards Program can enjoy free pool from 4-7 p.m. Monday-Friday during the month of January! Availability may vary due to group reservations or special events. Not a rewards member? Joining is free and easy, simply stop by the counter!