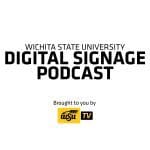 Here are your Wichita State University digital signage announcements for Monday, January 14th through Sunday, January 20th, 2019:
You are invited to attend the WSU Ventures Innovation Awards, honoring individuals and programs that have adopted and advanced the Innovation University concept. Awards, refreshments, and networking. There is no fee to attend. The event is Tuesday, January 22, 3-4:30 p.m. at the Rhatigan Student Center, Beggs Ballroom.
Attend Biz Fest, Tuesday, Feb. 12, 2019 from 12 – 3 p.m. at the Rhatigan Student Center, 3rd Floor. WSU business students have an exciting opportunity to connect with employers who are looking to hire interns, co-op students and full-time employees. Bring copies of your resume and your WSU ID. Students who attend this event will have the opportunity to have a LinkedIn profile photo taken for free! More information available at wichita.edu/bizfest.