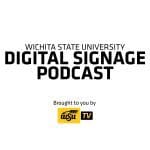 Here are your Wichita State University digital signage announcements for Monday, January 15th through Sunday, January 21st, 2018:
Learn more about the SWEET life of being in a Multicultural Greek organization! Stop by our table in the RSC 1st floor from 12-1:20 p.m. on Thursday, January 18 to get free sweets and company! For more info, email wichita.mgc@gmail.com. An art installation is an "artistic genre of a three-dimensional work that is site-specific and designed to transform the perception of a space". This upcoming Welcome-fest, join Student Activities Council and the WSU Sculpture Guild to contribute, interact, and be captivated by the one-of-a-kind art installation on Tuesday, January 23 from 10 a.m.-1 p.m. in the RSC North Patio! Be prepared to see the RSC North Patio with new eyes as we transform the area!
Wichita State Associate Professor of Political Science Neal Allen, will speak about the items from the D.J. Scanlon Political Button collection that are presented in association with the Ulrich Museum's winter exhibition "WE THE PEOPLE: American Art of Social Concern" Tuesday, January 23 5:30 p.m. Reception at 6 p.m. at the Ulrich Museum
Stop by the Shocker Sports Grill & Lanes in January to try their newest Burger of the Month, the Mushroom Swiss Burger! Available all month for $6.99.
Members of the Shocker Sports Grill & Lanes Eat.Drink.Play. Rewards program can enjoy free billiards from 4-7 p.m. Monday-Friday during the month of January. Not a member? Joining is free and easy, just stop by the counter!
Stop by the Shocker Sports Grill & Lanes in January to try their newest Burger of the Month, the Mushroom Swiss Burger! Available all month for $6.99.
Visit the Shocker Sports Grill & Lanes January 13-27 to take advantage of some great Welcome-fest deals to start out the semester! You can enjoy $1.50 hot dogs, $3/hour billiards and $1.50 bowling games (rental shoes not included). Welcome back, Shockers!
Stop by the Rhatigan Student Center every Wednesday for the live music series, RSC Unplugged. RSC Unplugged for Wednesday, January 17 features Adam Capps from 11 a.m.-1 p.m. in the RSC's Starbucks Lounge. Grab a cup of coffee and relax with some great music!
At Sex in the Dark, the lights are out so students can anonymously ask any sexual health question. Our panel of experts will shed some light on the questions you've been too embarrassed to ask. Participate and receive free glow gear, snacks and win prizes.
Sex in the Dark will be on February 8th at 5 p.m. in the Shocker Hall Multipurpose Room.
The tour begins by the Circulation Desk at 5:30PM followed by an orientation to online services and collections in 217 Ablah. Learn about special services and collections for students. Includes a wireless network, 3D printing and other technology, study areas, a quiet zone and a 24-hour study room with computers and vending. Although this event is designed for students, everyone is welcome, including family and friends!
University Libraries (UL) can make your life easier, especially when it comes to doing library research. Come to this workshop to learn about library resources that help you avoid article charges, the EndNote software program provided by the UL that reduces the effort required to format research papers and citations, technology equipment such as iPads and portable projectors that you can borrow, subject librarians who are available for individual and group consultations, and much more.
Stock up on the items every college student needs! Come to the RSC 1st floor on Thursday January 18th from 11a.m. – 1p.m. to receive everything you need to survive the commuter struggle!
Martin Luther King Day- Cosmic Bowling The Shocker Sports Grill & Lanes will be open Monday, January 15 on Martin Luther King Day. Enjoy $1.50 cosmic bowling games with free rental shoes all day! Hours are 11 a.m. to 9 p.m.
The choice is yours at the University Bookstore! They carry many textbook options for students, including new, used, rentals and e-books. Purchase your choice of textbook options for your spring classes in store or online at wsubooks.com.
Cut H8 and SAC are hosting an Open Mic Event on January 30th from 11 am to 1 pm. Come join us at the brand new Starbucks in the RSC to hear speakers, songs, spoken word, and poetry.
Represent WSU at the Kansas Undergraduate Research Day at the Capitol Wednesday, February 14th. Students from the state's eight public universities will present their research to lawmakers. Apply at wichita.edu/dayatcapitol
Join us for food, fun, music, and prizes. This event is FREE for WSU students and staff with a WSU ID. If you are interested in being a part of this event, please visit wichita.edu/Involvement to register. Spring-fest is sponsored by Campus Recreation and Student Involvement.