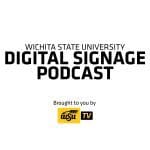 Here are your Wichita State University digital signage announcements for Monday, January 28th through Sunday, February 3rd, 2019:
Join WSU students, faculty/staff, and friends at the Rhatigan Student Center on February 8 from 8-10 for Shockers After Dark.Activities include an oxygen bar, blackjack tournament, karaoke, a henna artist, trivia, glow in the dark games, table tennis, sign art, make your own mini Wichita flag and more. The first 200 people will receive a free glow in the dark stress ball. Free admission. For additional information please contact Student Affairs at 978-3021 or visit www.wichita.edu/studentaffairs.
BizFest – Business Career Fair. Tuesday, February 12, 12 – 3 p.m., RSC 3rd Floor. Dress is business professional. Bring your WSU ID and copies of your resume.
Head to the Starbucks Lounge on January 30 from 11 a.m. – 1 p.m. for RSC Unplugged featuring Sterling Gray.
Head to the Shocker Sports Grill and Lanes on February 3 to catch the Big Game.
Hey Shockers! Checkout Cadman Art Gallery Spring – 2019 Exhibits Full schedule at www.wichita.edu/cadmangallery.
Applications for the upcoming Shocker New Venture Competition are opening soon! Mark your calendars for February 11th and be sure to visit www.wichita.edu/snvc for more information. 
Announcement of first Shift Space art show of the year! Featuring the work of area high school students who are projected to attend WSU!
2019 marks the Lunar New Year of the Pig. Experience the traditions, activities and performances to celebrate the new year on the first floor of the Rhatigan Student Center from 11 a.m.-1 p.m.! Enjoy the GDPT Tri Pho Lion Dancers at 11:20 a.m.
Join us every last Wednesday of each month from 6-9 p.m. in Rhatigan Student Center 266 as we enjoy fantastic queer cinema! Popcorn and snacks will be provided.
Want to learn more about what the library offers for grad students? Come to one of our two events! For more information, call Kathy Delker at (316) 978-6331.
Sigma Psi Zeta sorority, Inc. will be having their Spring 2019 Recruitment from February 4-8. Come out and see what they're all about! 
Elections for 62nd Student Government Association are quickly approaching. If you are interested in running, please see the timeline and visit www.wichita.edu/sgaelections.
Want to learn what all University Libraries have to offer? Join us for one of two tours at Ablah Library on either Wednesday, January 30 or Friday, February 1! For more information, call Angie Paul at (316) 978-5084.
Join us for a scavenger hunt at Ablah Library! For more information, call Angie Paul at 316-978-5084.
Head to the Shocker Store on February 5th for our one-day-only sale featuring $15 hoodies!.
Table Tennis Tournament hosted by Intramural Sports. The event is accepting participants from January 14-February 13. To join, sign up on imleagues.com/wichita. The event takes place on February 15. 
Come to the LinkedIn workshop January 31, 5 – 6:30 p.m., RSC 266, and you'll learn how to craft a stellar profile, build a valuable network and leverage both to your best advantage. Bring your laptop. More info at wichita.edu/GetLinkedIn.
Canoe Battleship, a fun intramural event, takes place at the Heskett Center's Wiedemann Natatorium on February 8th. To participate sign up on imleagues.com/wichita between the dates of January 14 – February 6. The event consists of teams of four in the pool in canoes using buckets and water to soak each other.
Intramural Sports' Kickball 10 vs. 10 tournament opens registration on January 14 and continues through the 25. To participate sign up on imleagues.com/wichita between these dates and then join us for the tournament on the 31st of January.
Attend Biz Fest, Tuesday, Feb. 12, 2019 from 12 – 3 p.m., Rhatigan Student Center, 3rd Floor. WSU business students have an exciting opportunity to connect with employers who are looking to hire interns, co-op students and full-time employees. Bring copies of your resume and your WSU ID. Students who attend this event will have the opportunity to have a LinkedIn profile photo taken for free! More information available at wichita.edu/bizfest.
Study abroad this summer in France with the Global Entrepreneurship Program. The program is 6 weeks and open to students of any major. Applications are currently being accepted. For more information, email studyabroad@wichita.edu.