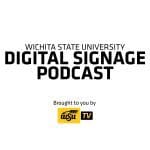 Here are your Wichita State University digital signage announcements for Monday, January 29th through Sunday, February 4th, 2018:
How can you tackle big issues such as species conservation and human rights? Make your mark on the world during Invent for the Planet. You will focus on developing products to make the world a better place for the inventors of tomorrow. February 16-18. Follow the link for details and to apply – (https://docs.google.com/forms/d/e/1FAIpQLScrRdnUdOofEzykr9TQzhcscX-PRYzTlCmUB7yiollCdVEusw/viewform)
Have you heard about WU Coin? Proposed as an alternative for Shocker Dollars, WU Coin uses a cryptocurrency-based business model. Go to www.shockerdk.com to find all the information that you need to feed your curiosity about WU Coin and its benefits.
Established during an era of de-facto racial segregation, Wichita's Dunbar Theater became a resource for local African Americans. This presentation will examine the birth, development, decline, and resurrection of one of Wichita's iconic community institutions. Learn more about the History of Wichita's Dunbar Theater, Tuesday, February 20 at 6 p.m. in Hubbard Hall, Room 208.
Inventions, designs, original works of authorship and trade secrets – all of these can provide you with economic benefits. Know the basics of protection! Location: Hughes Metroplex, Entrance B 5015 E. 29th St. N. Wichita, KS 67260 Open to the public. Learn more about Empowering Innovations, Monday, February 19 from 1:00 p.m. to 2:30 p.m.
January's Trademark Tuesday presentation will be focused on forms, fees, and filing requirements.This event is intended for individuals with a beginning to intermediate level of trademark knowledge. To get the most out of this event, we recommend participants view informational videos regarding trademark registration before the session and prepare questions to ask the trademark experts. Tuesday, January 30, from 12:30 p.m. to 2:00 p.m.
Discover the difference between a trademark, service mark, and registered mark. Then, learn how to search for existing marks and logos and walk through the online trademark application process. Tuesday, February 13 from 5:30 p.m. to 7:00 p.m. in Ablah Library, Room 217.
A strong research question is the foundation of any successful research project, but what actually makes a question good? In this workshop we'll explore the essential elements of a research question, work through examples from several subject areas, and practice writing questions as a class. Friday, February 9 from 12:00 p.m. to 1:15 p.m. in Ablah Library, Room 217.
Learn how to create and navigate a basic spreadsheet in MS Excel 2013, a spreadsheet application. We will cover tool bar navigation, math operators and formula functions, many basic tools such as sorting, manipulating rows and columns, cell formatting, and creating new pages using a sample spreadsheet and creating a new one. Thursday, February 8 from 2:00 p.m. to 3:30 p.m. in Ablah Library, Room 217.
It's International Condom Day and also Valentines Days! Join Student Health Services and Student Activities Council as we discuss the importance of safe sexual health practices. This event will be on Wednesday, February 14 from 11 a.m. – 1 p.m. in RSC 1st Floor. There will be free condoms. For more information please visit wichita.edu/sac.
Stop by the Rhatigan Student Center every Wednesday for the live music series, RSC Unplugged. RSC Unplugged for Wednesday, January 31 features TML from 11 a.m.-1 p.m. in the RSC's Starbucks Lounge. Grab a cup of coffee and relax with some great music!
Need a place to watch the big game on Sunday, February 4? The Shocker Sports Grill & Lanes is the perfect place! Enjoy food and drink specials and catch the game on one of their many TVs!
Mind Matters is a student organization that works to de-stigmatize mental health. This semester we will meet on Thursdays at 2:00 p.m. in RSC 221. Join us!
Join members of the curatorial team led by Ulrich staff for an intimate discussion of selected works in the "We The People: American Art of Social Concern". Lunch will be provided following the gallery walk. RSVP to ulrich@wichita.edu for lunch. The Gallery Walk will be at 12:00 p.m. Lunch will be at 12:30 p.m.
Safe Zone Training, Monday, February 12 from 2:30 p.m. to 5:00 p.m. The goal of Safe Zone Training is to provide a safe and supportive network to the lesbian, gay, bisexual, transgender, questioning and ally (LGBTQA) community. To provide safe spaces on campus that are highly visible and easily identifiable where LGBTQA persons find that support and understanding is the key and where bigotry and discrimination are not tolerated. For more information and to register, go to wichita.edu/safezone.
UNITED IN WU is an overnight diversity camp where students from all walks of life learn about the power of diversity. This camp provides hands-on activities, introspection, and pushes students out of their comfort zones. Applications are available in Rhatigan Student Center 208. For more information, go to wichita.edu/unitedinwu.
Wichita State Homecoming 2018, Shocker Space Jam, will be February 5-10. Various events take place throughout the week, all of which are free to students. For more information, please visit www.shockeralumni.org/homecoming.
Calling all International Students! SAC want you to know how much we appreciate you on the Wichita State campus! Stop by the 1st floor of the RSC on Wednesday, February 7th from 11a.m. – 1p.m. to see exactly what your fellow shockers appreciate about you!
Join Student Activities Council as we kick-off Homecoming Week! Bring your Shocker spirit and SAC will provide all of the materials to make your own unique mask of Wu Shock himself. From there, Wu masks may be taken to WSU basketball games throughout Homecoming week to show off your Shocker pride. Get in on WSU festivities with SAC by stopping by the RSC 1st floor from 11 a.m.-1 p.m. For more information about SAC sponsored events, please visit www.wichita.edu/SAC or contact us at sac@wichita.edu.
Business Booster starts February 9th with Developing a Business Model. A workshop designed to help you create an effective approach to starting a venture. Business Booster is held from 8:30-11:30 am on the second floor of Devlin Hall.
Save the date for a one-day-only special from the University Bookstore! Starting at noon on Wednesday, January 31, the Bookstore will have two styles of crew sweatshirts for just $14! While supplies last. Limit 3 per customer, not valid with any other discounts. Special is in store only.
Love tattoos but can't commit? Then take one for a test drive at Student Activity Council's Henna Tattoo event, co-hosted by the Indian Student Association. Stop by the RSC 1st floor on Tuesday February 20th between 11am and 1pm to get a free henna tattoo and learn about their cultural background. For more information, please contact SAC at sac@wichita.edu or visit our website at www.wichita.edu/SAC.
The virtual career fair will be held online on February 21 from 9 a.m. to 3 p.m. This event is exclusively for college students seeking internships and cooperative education. Learn more at wichita.edu/virtualfair.
Apply now for the Shocker New Venture Competition! SNVC offers students the chance to win start-up capital for their business idea. Hurry and apply now, applications close March 5th at noon.
University Libraries is hosting the workshop "Empowering Innovation: Intellectual Property Basics" from 5:30 – 7 p.m. Tuesday, February 6, in GoCreate, Experiential Engineering Building Rm. 264. Inventions, designs, original works of authorship and trade secrets – all of these can provide you with economic benefits. This workshop is the first in the Entrepreneurship Research Series.
University Libraries is holding the workshop "Discovering Digital Literacy" from 2-3:30 p.m. Thursday, February 1, in Ablah Library, Room 217. Explore key concepts and practices necessary to proficiently engage and evaluate our growing universe of digital information. This workshop is the first in the series of Digital Literacy workshops.
The University Libraries is hosting the workshop "Finding and Tracking Legislation" for all students on Friday, February 2, from noon to 1:15 pm in Ablah Library, RM217. This is the first in a series of Savvy Researcher workshops to be held this semester.
Campus Credit Union, not your ordinary college tradition, The BEST college tradition! Helping you to save, share, and grow. Feel free to stop by, we are located right next to the WSU police station.
Changed people change culture! Join Called to Greatness this Thursday, February 1st from 8-9:15pm in RSC, Room 156 (Edmiston Room) as we discover how to change culture, influence those around us, and grow in our ability to lead ourselves and others. Get ready to play fun games, meet students from all walks of life, and learn more about your leadership strengths. This is a free event open to all WSU students.
WSU business students have an exciting opportunity to connect with employers who are interested in hiring interns, co-op students, and full-time employees. Business professional dress is required. Bring copies of your resume and your WSU ID. February 13, 2018 from 3:30 to 6:30 p.m. in Koch Arena.
Have your resume reviewed and practice interviewing with an employer expert in the business field. Appointments are encouraged but not required. Bring copies of your resume and your WSU ID to RSC 265 on January 31 from 11 a.m. to 2 p.m.
Interested in going Greek? This is your chance! Learn more about each of the organizations under the Multicultural Greek council during their respective weeks:
– Kappa Delta Chi Sorority will hold theirs January 22-26,
– Sigma Lambda Beta International Fraternity's is January 29-February 2,
– Chi Sigma Tau National Fraternity and Sigma Psi Zeta Sorority will hold their week February 5-9.
– Kappa Alpha Psi Fraternity will be hosting their week February 12-16,
– Zeta Phi Beta Sorority, Inc. will be hosting theirs February 26-March 2,
– Delta Sigma Theta Sorority, Inc.'s week will be on March 5-9,
– and Alpha Kappa Alpha Sorority's week will be on March 12-16.
To learn more, email wichita.mgc@gmail.com.
Stop by the Shocker Sports Grill & Lanes in January to try their newest Burger of the Month, the Mushroom Swiss Burger! Available all month for $6.99.
Members of the Shocker Sports Grill & Lanes Eat.Drink.Play. Rewards program can enjoy free billiards from 4-7 p.m. Monday-Friday during the month of January. Not a member? Joining is free and easy, just stop by the counter!
At "Sex in the Dark," the lights are out so students can anonymously ask any sexual health question. Our panel of experts will shed some light on the questions you've been too embarrassed to ask. Participate and receive free glow gear, snacks and win prizes. Sex in the Dark will be on February 8th at 6:30 p.m. in the Shocker Hall Multipurpose Room.
The choice is yours at the University Bookstore! They carry many textbook options for students, including new, used, rentals and e-books. Purchase your choice of textbook options for your spring classes in store or online at wsubooks.com.
Cut H8 and SAC are hosting an Open Mic Event on January 30th from 11 am to 1 pm. Come join us at the brand new Starbucks in the RSC to hear speakers, songs, spoken word, and poetry.