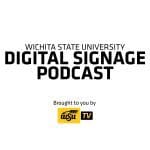 Here are your Wichita State University digital signage announcements for Monday, January 6th through Sunday, January 12th, 2020:
Soup is back at the Shocker Sports Grill & Lanes just in time for the cooler weather! A different soup will be featured each week, Monday-Friday. Grab a cup for $2.99 or a bowl for $3.99. For January 6-10, the Soup of the Week is Tomato Tortellini.
Stop by the Shocker Sports Grill & Lanes in January to try their Burger of the Month, the Wild West Burger! It's topped with your choice of cheese, an onion ring, and BBQ sauce. Want a meatless option? Ask for it with our beanie burger!
Members of the Shocker Sports Grill & Lanes Eat.Drink.Play. Rewards Program can enjoy free pool from 4-7 p.m. Monday-Friday during the month of January! Availability may vary due to group reservations or special events. Not a rewards member? Joining is free and easy, simply stop by the counter! 
Be a part of WSU's largest one-day service project! Wu's Big Event XII Saturday, February 8th, 2020, 9:00 a.m. – 2:00 p.m. Beggs Ballroom, RSC Registration includes Breakfast, Lunch, T-Shirt and Transportation Provided. Register at Wichita.edu/BigEvent Have questions? Email: CSB@Wichita.edu or call 978-7016.