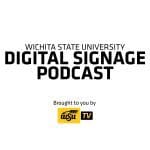 Here are your Wichita State University digital signage announcements for Monday, July 1st through Sunday, July 7th, 2019:
The Rhatigan Student Center and its departments will be closed Thursday, July 4, in observance of the Independence Day holiday. For regular building and department hours of operation, please visitwww.wichita.edu/rschours.
The Shocker Store is hosting the official public AfterShocks event to kick off TBT week- the AfterShocks Tourney Tip-Off! Join us from 3-5 p.m. on Sunday, July 21 at Shocker Store Braeburn Square. Get autographs from AfterShocks players, shop for AfterShocks merchandise, get discounts on Shocker gear, enjoy refreshments from our grill or bar area and play some yard games! Plus, enter to win tickets to TBT to watch the AfterShocks play!
Campus Recreation is looking for 3 Exercise Science Interns with an emphasis on strength and conditioning. Tasks will include equipment maintenance, cleaning, roster management, spotting, risk management, programming, research, customer service, and training. ACE certification is included for the selected candidates. Interviews will be conducted for those eligible. Apply here: https://bit.ly/2InsFMW
Thank you to all who participated and helped in the 2019 Spring Wu Lifts competition at the Heskett Center.
TRIO Disability Support Services wants to help YOU graduate. Stop by the Grace Wilkie Annex or call 316-978-5949 to find out more information on how to apply.