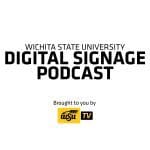 Here are your Wichita State University digital signage announcements for Monday, July 23rd through Sunday, July 29th, 2018:
Some exciting changes are coming to Mega-Bytes, the convenience store located in the Experiential Engineering Building. The store will be transforming into a self-service micro-market, with new products! So, they will always be accessible as long as the building is open. You will be able to swipe in with WSU ID. The store will be closing July 28 for the changeover and opening back up mid-August.
Textbook Buyback and Rental Return starts this week at the Shocker Store! Bring in your gently used textbooks July 26 and July 27, during normal hours of operation, to receive cash for your books. Rental books are due back by July 31, with a late fee charged after that date.
Save big at the Shocker Store's Christmas in July Sale! This week, take 30% off coats, sweatshirts, sweatpants and cold weather accessories (gloves, scarves, hats, etc). Valid on regular priced items. Sale is in store only.
Working on your tenure and promotion dossier? Want to determine the impact of your research? Come to one of the University Libraries' "Citation Searching and Altmetrics for T&P Dossiers" workshops. The workshop will be given 3 times in Ablah, Room 217: Thursday, August 2, 2018 from 10:00 a.m. to 11:30 a.m.; Thursday, August 9, 2018 from 4:30 p.m. tp 6:00 p.m.; and Thursday, August 30, 2018 from 3:00 p.m. to 4:30 p.m. For more information and to register go to
https://wichita.libcal.com/calendar
.
Join the Multicultural Greek Council for as each Multicultural Greek chapter showcases their deep rooted traditions in stepping and strolling at Yard Show! Thursday, August 30, from 12:00 p.m to 1:00 p.m. at the RSC North Patio. For more information, email 
wichita.mgc@gmail.com
.
Interested in going Greek? Learn more about each Multicultural Greek chapter on campus at the Multicultural Greek Council Informational! Monday, August 27, from 5:00 p.m to 7:00 p.m. in the RSC Ballroom. For more information, email 
wichita.mgc@gmail.com
.
Students, the Shocker Sports Grill & Lanes has immediate openings for their Guest Server and Kitchen Helper student positions. Apply online at
www.wichita.edu/rschr
. Enjoy a fun atmosphere and great benefits like discounts at the Shocker Store and dining locations
You'll be on campus quite a bit this fall — why not work on campus, too? Make sure to come to the On-Campus Job Fair, Wednesday, July 25, from 1 – 3 p.m. in the RSC 3rd Floor Ballroom. Business casual dress is required. Bring your WSU ID and copies of your resume.
University Libraries will be holding "IP for Beginners" workshops on Friday, August 3 from 11:00 a.m. to 1:00 p.m. in Ablah Library, Room 217. For more information, visit
libresources.wichita.edu/ers
Make sure to stop by the Shocker Sports Grill & Lanes in July to try their Burger of the Month, the California Burger! It's topped with sliced avocado, bacon and pepperjack cheese. Only available this month, so don't miss it!
Members of the Shocker Sports Grill & Lanes' Eat.Drink.Play. Rewards Program can enjoy Save-A-Buck Fridays during the month of July! Members can take $1 off burger combos and full size salads. Some exclusions apply. Not a member? Joining is free and easy, just ask!
Join the Shocker Rewards program at the Shocker Store! Earn points to save money on future purchases. Sign up in store today.