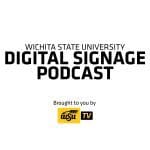 Here are your Wichita State University digital signage announcements for Monday, June 18th through Sunday, June 24th, 2018:
During summer for your own safety the upstairs Heskett Center gymnasium will close if the Heat Index gets to 95 degrees fahrenheit. We apologize for any inconvenience this may cause.
The Heskett Center is open this summer from 6:00 a.m. to 8:00 p.m. from Monday through Friday, and 1 to 6 p.m. Saturday and Sunday. The Wiedemann Natatorium hours are from 6:30 a.m. to 8:30 a.m., 11:30 a.m. to 1:30 p.m. and 4:00 p.m. to 7:30 p.m. We will also have a variety of different Shocker Fit classes like Yoga, Cycle Fit, Outdoor Bootcamp, F45 and Glide fit. For more information call 316-978-3082 or check out our website at
wichita.edu/campusrec
.
Members of the Eat.Drink.Play. Rewards Program in the Shocker Sports Grill & Lanes can enjoy Bonus Discount Fridays in June! Show your membership card and add 5% to your existing rewards discount. Not a member? Joining is free and easy, simply visit one of our counters!