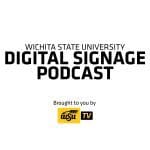 Here are your Wichita State University digital signage announcements for Monday, March 9th through Sunday, March 15th, 2020:
After touring the Ulrich Museum of Art at Family Fun Day from 1-3 p.m. on Saturday, March 14, join SAC in the CAC Theater to watch Pixar's Inside Out! Free crafts and snacks will be provided. For more information about SAC sponsored events, please visit wichita.edu/sac or contact us at sac@wichita.edu.
Need help figuring out what your market is? The library is offering a workshop for "Market Research for Start-Ups" on Tuesday March 17th from 5:30-7pm. The workshop is focusing on research strategies and resources for success in the Shocker New Venture Competition. To register for the workshop go to https://libraries.wichita.edu/ers To register for Shocker New Venture Competition go to wichita.edu/snvc.
The Shocker Sports Grill & Lanes is Tournament Central! Catch all the big games on their TVs.
International Student Union presents International Food Festival, a rich and savory cultural experience.
Stop by the Rhatigan Student Center every Wednesday for the live music series, RSC Unplugged. RSC Unplugged for Wednesday, March 18 features Made from Scratch from 11 a.m.-1 p.m. in the RSC's Starbucks Lounge. Grab a cup of coffee and relax with some great music! 
Stop by the Rhatigan Student Center every Wednesday for the live music series, RSC Unplugged. RSC Unplugged for Wednesday, March 11 features Vince Serrioz from 11 a.m.-1 p.m. in the RSC's Starbucks Lounge. Grab a cup of coffee and relax with some great music!
RSVP for 2020 Spring Commencement! Graduates must RSVP online at MyWSU by April 24th at 5:00 p.m. Additional information can be found at https://wichita.edu/commencement.
Flu shots for students are $20.00. Bring your health insurance card and Student Health Services will file your insurance for the cost of the flu vaccine! The Student Wellness Center is open Monday through Friday 8 a.m. – 5 p.m.
Shocker Softball opens their 2020 home season March 20th through the 22nd when they take on UCF at Wilkins Stadium. Students receive free admission at the gate by presenting a valid Shocker ID. Find out more information and check for special promotions at https://GoShockers.com!
Confidential free HIV testing with results in 5 minutes will be available from 1-4 p.m. on Tuesday, April 7th in RSC Room 258. The testing is sponsored by Positive Directions Inc., WSU Student Health Services, and WSU Office of Diversity and Inclusion.
For more information about proper hand washing techniques, when you should wash your hands, and more, visit the CDC web page https://cdc.gov/handwashing.
"B-4" you call it a night, come out to Fuzzy's Taco Shop for a fun game of Bingo. Enjoy bottomless chips and dip and happy hour specials while playing bingo for a chance to win some amazing prizes! Only WSU students with WSUID are eligible to win.
Learn how to support your community with the #WSUWeSupportU Preventing Suicide training. Each training lasts an hour and a half and gives you the tools you need to assist someone in need through the Share, Ask, Support method. Upcoming trainings are available Tuesday, March 10; Wednesday April 15 and Friday, May 15.
The Shocker New Venture Competition gives students the opportunity to win venture money as well as receive valuable feedback on their idea from industry experts.Each year this event connects students from all academic disciplines to take part. Applications open March 16th though April 1st, 3 minute video is also required with applications, for more information go to https://wichita.edu/snvc.
The Shocker Sports Grill & Lanes is featuring the Burris Burger as the March Burger of the Month. The Burris is comprised of our 7 oz. patty with cheddar and pepper jack cheeses, topped with a spicy hot link and all the trimmings. We are proudly serving this creation in memory of our friend and colleague Don Burris who passed away recently. Don was the Director of Plant Operations in the RSC for over 30 years, since 1989. This burger was a creation of his many years ago.
Members of the EAT.DRINK.PLAY. Rewards Program in the Shocker Sports Grill & Lanes can enjoy $1.50 bowling lanes anytime lanes are available on Fridays in March, even during cosmic bowling. Joining the rewards program is free and easy! Simply stop in to sign up and start getting rewarded today!
Check in with your mental health by taking one or more of our brief, online mental health checkups by visiting https://wichita.edu/caps and clicking on the Mental Health Screenings button in the header.
Win a red parking spot for an entire semester or other prizes by taking the National College Health Assessment through the Prevention Services Advisory Board starting Wednesday, February 26th. Fill out the survey sent to your WSU email address and be automatically entered. For more info visit https://wichita.edu/PSABgiveaway.
The Shocker Sports Grill & Lanes will be offering Lent specials February 26-April 9! Options are popcorn shrimp, polluck fish sticks and crumb-breaded cod fish filets. Hush puppies included with each. Add fries for just $1.00!
The Ad Astra Film Studies Conference entitled "Documentary Filmmakers Talk About Their Films" will be on Monday, March 9th, from 9:15 a.m. until 3:30 p.m. in the Santa Fe Room (Room 233) of the WSU Rhatigan Student Center. Talks start at the half hour, with no talks from 11:30 a.m. to 12:30 p.m. This conference is free and open to all, with no registration required.
Put your game face on and play some video games and board games with your fellow LGBTQ+ Shockers. Bring your favorite game and we will have plenty to share.
Each year, the Department of Sociology at Wichita State University works with several co-sponsors to organize and host a conference showcasing the gender and sexuality related scholarship happening across our state. The goal of the conference is to highlight scholarly and creative work of students, faculty, staff, and community partners around gender and/or sexuality issues and to provide an opportunity to network across departments and universities within Kansas. The conference is free and open to students, faculty, staff, and interested community members.
Dr. Sarah Deer's lecture will give us an opportunity to learn about the crisis of interpersonal and sexual violence in Native America. Her keynote is part of the 2020 Gender & Sexuality Conference, in partnership with the Department of Sociology and multiple collaborators.
March is Bisexual Health Awareness Month! Learn more and participate in raising awareness about the bisexual community's social, economic and health disparities, advocating for resources and preventing or decreasing these disparities. #BiHealthMonth
Professor Kim Warren, a scholar of gender and race in African American and Native American studies at the University of Kansas, will be the featured keynote speaker for International Women's Day. Her topic will be "Citizenship Before the Women's Suffrage Amendment: African and Native American Rights and Resistance."
The Center for Women's Studies, in sponsorship with Office of Diversity & Inclusion, League of Women Voters – Wichita, and Centennial Celebration of the 19th Amendment, will host a Creative Concourse, featuring poetry, skits, stories, and other presentations by community members and students.
Come celebrate women empowerment with the Student Activities Council! Take pictures in our photo booth and tell us what makes you proud to be a woman or proud to know the strong women in your life.
Stop by the Writing Center Mondays and Wednesdays during the spring semester located in Ablah Library Room 125 on the main floor.
The second annual Edible Book Festival hosted by Wichita State University Libraries is coming April 1, 2020 to Ablah Library's main floor. Register to submit your culinary creation at libraries.wichita.edu/ediblebookfestival.
Join us in hanging out, playing games, and sharing conversation with the senior citizens in your community! Learn more at wichita.edu/csb.
Join us in serving a meal at the Lord's Diner! Transportation is available. Pre-registration is required at wichita.edu/CSBvolunteer.
Help the youth in our community by providing homework assistance in a variety of subjects! No experience is necessary! Pre-registration is required at wichita.edu/CSBvolunteer.
Tuesday Talks with Sandy and Student Health Services will be at 1st floor RSC tabling on Tuesdays to answer health questions and assist in making appointments. FREE stuff will be available!
Are you interested in studying abroad this summer? Our exchange partner, ESCE Paris has a summer program for French language & culture or several business-related courses. For more details on costs and how to apply, contact us atstudyabroad@wichita.edu or ann.burger@wichita.edu.
Talk with Toby is March 13! Join us and our support dog Toby for discussions on wellness, nutrition, and exercise in the Heskett Center lobby.
Save at the Shocker Store with your Shocker Baseball ticket stubs! Each time the Shockers hit a home run in a home game, bring your ticket stub to the Shocker Store (Braeburn Square location) the next day and receive 10% off one WSU imprinted item, up to 30% off for 3 or more home runs. May not be combined with any other discount or promotion. Some exclusions apply. Hit those home runs, Shockers!
The Career Development Center, in collaboration with the College of Health Professions and WSU Tech, will host a Health Professions Career Fair on Wednesday, April 1, 2020 from 11 a.m. – 1 p.m. in the Ballroom on the third floor of the Rhatigan Student Center. This is a great opportunity for students looking for a career in the Healthcare Industry or as a Healthcare professional to meet and talk one-on-one with representatives/recruiters about their organization and available opportunities.
WSU Students who need professional clothing for career fairs, interviews, and professional development opportunities should come to the Career Closet Event. Items available may include suits, dress pants, professional shirts or blouses, professional skirts, belts, neckties, briefcases, shoes, cuff links, tie clips and more. No appointment necessary. Just stop by Brennan III on March 19, come-and-go from 9 a.m. to 4 p.m.
Come on out to C. Howard Wilkins Stadium this spring to support your 2020 Shocker Softball team. Conference opponents coming to Wichita include UCF, Tulsa, and Memphis while the non-conference slate includes Arkansas, Oklahoma State, and Oklahoma. All Shocker students get into the games for free with a valid Shocker ID!
Communication has a huge impact on whether we make it out in the real world! Join the Graduate School with presenter Dr. Ray Hull, Professor of Communication Sciences and Disorders, Audiology/Neurosciences, for the Art of Communication in Professional Life on March 11, 12:00-1:30 pm in the Harvest Room (142) of the RSC for lunch, to explore how our ability to communicate affects our professional lives, and to learn tips for improving your professional communication skills.