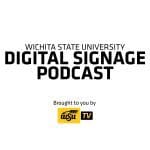 Here are your Wichita State University digital signage announcements for Monday, May 14th through Sunday, May 20th, 2018:
The Heskett Center will have modified hours from May 12 to June 3. The Heskett Center will be open from 7 a.m. to 8 p.m. Monday through Friday, and 1 p.m. to 6 p.m. Saturday and Sunday. There will be two F45 classes a day from Monday to Thursday, one at 12 p.m. and the other at 5:15 p.m. On Friday there will be only one F45 Class at 12 p.m. For more information visit wichita.edu/campusrec or call 316-978-3082.
Members of the Shocker Sports Grill & Lane's Eat.Drink.Play. Rewards Program can enjoy free billiards from 4-7 p.m. Monday-Friday during the month of May! Not a rewards member? Joining is free and easy, just stop on by!
Stop by to try the Shocker Sports Grill & Lanes May Burger of the Month, the Fiesta Burger! Our patty is topped with pepperjack cheese and pico de gallo!
Explore the culture, traditions, and art of the Caribbean Carnival with mask making, music, costumes and dancing. Light snacks will be provided. Admission is free and open to the public. Saturday, May 19, 1:00 to 3:00 p.m.