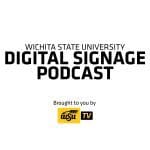 Here are your Wichita State University digital signage announcements for Monday, May 17th through Sunday, May 23rd, 2021:
NIAR is hiring for our Digital Twin Program. Apply today at apply.cadcamlab.org. Ages 16 and up, no experience required.
Both the Shocker Women's AND Men's Teams just became the 2021 National Champions at the Intercollegiate Championships in Wyoming, Michigan! It marked the 10th National Title for the Women, and the 12th for the Men!
Life-Changing Tricks in Microsoft Office – Presented by Ali Levine. This session will reveal some life-changing tricks in popular Microsoft Office Applications (Excel, Word, PowerPoint, Outlook, and Teams). We will discuss new features in Office 365, how you can use Artificial Intelligence (AI) to boost performance, and also uncover some secret, hidden tools in your favorite MS Office programs. This event is free to attend. Registration is required. The event is on June 16th, 2021 from 9am-10am CST. Register online at wichita.edu/tricksinmo. Questions? Contact Strategic Initiatives by phone at 316-978-5363 or email at strategicinitiatives@wichita.edu.
Wichita State Dance Virtual Tryouts – The Shocker Dance Team officially announced that tryouts for the 2021-2022 team will be held virtually. Anyone interested can visit goshockers.com and go to the dance page by clicking on the "fans" tab on the website (direct link to tryouts page here). Submissions will be accepted until June 5, 2021.
Shockerthon, at Wichita State University. Text "SHOCKER" to 51555 to get involved!
Shocker Baseball invites Wichita State students to catch a game at Eck Stadium and take advantage of special promotional nights and giveaways! Wichita State students receive free admission with a valid Shocker ID. May 15th, we're giving away 1,500 "Flying W" koozies.
That's all for your weekly digital signage announcements. Have a great day, Shockers!