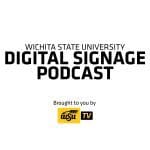 Here are your Wichita State University digital signage announcements for Monday, May 28th through Sunday, June 3rd, 2018:
The RSC and its departments will be closed Sunday, May 27 and Monday, May 28 during Memorial Day weekend. For RSC building and department hours, please visit
www.wichita.edu/rschours
.
Join Google for free workshops to help you grow your skills, career, or business. May 30 at Hughes Metro Complex at Wichita State University. RSVP at g.co/GrowWichita
The Heskett Center will have modified hours from May 12 to June 3. The Heskett Center will be open from 7 a.m. to 8 p.m. Monday through Friday, and 1 p.m. to 6 p.m. Saturday and Sunday. There will be two F45 classes a day from Monday to Thursday, one at 12 p.m. and the other at 5:15 p.m. On Friday there will be only one F45 Class at 12 p.m. For more information visit wichita.edu/campusrec or call 316-978-3082.
Members of the Shocker Sports Grill & Lane's Eat.Drink.Play. Rewards Program can enjoy free billiards from 4-7 p.m. Monday-Friday during the month of May! Not a rewards member? Joining is free and easy, just stop on by!
Stop by to try the Shocker Sports Grill & Lanes May Burger of the Month, the Fiesta Burger! Our patty is topped with pepperjack cheese and pico de gallo!