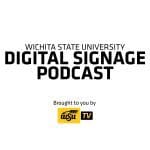 Here are your Wichita State University digital signage announcements for Monday, May 6th through Sunday, May 12th, 2019:
Feeling stressed about upcoming finals? Come by the Heskett Center from May 6 to May 9 from 10 a.m. to 12 p.m. for a free chair massage.
Take a moment to relax from studying by getting your paws on a pup provided by Love on a Leash. It will be an afternoon filled with cuddles, kisses, and lots of wet noses. May 8, 10:30 a.m. – 1 p.m. at the RSC North Patio.
Try the Shocker Sports Grill & Lanes' Burger of the Month for May- the Fiesta Burger! It's topped with pepper jack cheese and pico de gallo.
Members of the Shocker Sports Grill & Lanes Eat.Drink.Play. Rewards Program can enjoy free billiards from 4-7 p.m. Monday-Friday during the month of May! Not a member? Joining is free and easy, just stop on by!
Got a parking citation? Make a Food For Fines donation May 6-10! The donation form and more information can be found at wichita.edu/studentadvocate.
Stop by Ablah Library May 4 – May 10 to de-stress during finals frenzy! there will be Play-Doh, puzzles, games, coloring books, and other activities.
Don't stress over finals! Stop by Ablah Library Monday, May 6 starting at 10 a.m. for a free donut and coffee!
Are you graduating this spring? Commemorate this achievement with a commencement t-shirt! Your name will be listed on the back with all the other Spring 2019 grads. Pre-order online at www.shockerstore.com under the "Graduation" tab and pick-up your shirt at graduation! Or you may purchase at the Shocker Store's Koch Arena souvenir store during commencement. These shirts are NOT available for sale or pick-up at the RSC store. For more information, call 316-978-7490.
Research Coordinator needed $13.00 hr/20 hrs weekly. Submit your application via Handshake or call the McNair Scholars Program Office at 316-978-3139.
Study Abroad in Germany at Hamburg University of Applied Science for Spring 2020 for Aerospace Engineering. Scholarships of $1,500 are available and the deadline to apply is September 1st. Email studyabroad@wichita.edu for more information.