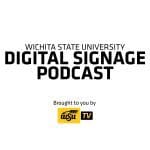 Here are your Wichita State University digital signage announcements for Monday, November 11th through Sunday, November 17th, 2019:
Meet us in Shocker Sports Grill and Lanes to celebrate WSU and Wichita area veterans and their families. Have a fun-filled and family-friendly night with bowling, billiards, competitive games, and free food provided by the Student Activities Council and the Student Veterans' Organization. Free to any veteran and their family. 
Imagination, Empathy, Self-discovery, History, Cooperation, Communication, Expression, Creativity, Community, Storytelling: Theatre had it all. THEA 143 Art of the Theatre, a general education Fine Arts Introductory Course. 
Soup is back at the Shocker Sports Grill & Lanes just in time for the cooler weather! A different soup will be featured each week, Monday-Friday. Grab a cup for $2.99 or a bowl for $3.99. For November 11-15, the Soup of the Week is Chicken Tortilla.
Stop by the Rhatigan Student Center every Wednesday for the live music series, RSC Unplugged. RSC Unplugged for Wednesday, November 13 features Aaron Lee Martin from 11 a.m.-1 p.m. in the RSC's Starbucks Lounge. Grab a cup of coffee and relax with some great music! 
 You don't have to choose between your family and your education; here at WSU, we celebrate both! Create lasting partnerships and engage in meaningful conversation about shared experiences with like-minded Students Who Are Parents, or SWAP! SWAP meets Thursday, Nov. 14 from 6 to 7 p.m. in RSC 266 (Pike Room).
Shocker Strong is an interest group for anyone who wants to maximize their time at Wichita State, use their strengths to the fullest and master the art of resilience. Shocker Strong will meet Wednesday, Nov. 20 from 3:30 to 4:30 p.m. in RSC 314 (Venters Room).
An initiative centered on growth, networking, and mentorship, Mi Gente helps Latinx students to succeed in their respective collegiate careers by self-implementing the principles learned and attained therein. Mi Gente meets Tuesday, Nov. 26 from 3 – 4 p.m. in RSC 266 (Pike Room).
This group is focused on helping First-Gen students develop strategies to succeed, create opportunities to network, and share their stories. The group is meeting on Tuesday, Nov. 19 from 1 to 2 p.m. in Hubbard Hall 227.
Join University Libraries for Trademark Tuesday on Tuesday, November 12. For more info, call Sara Butts at 316-978-5017.
Celebrate the second-annual WSU Graduate School Three Minute Thesis Competition Showcase of student oral presentations of original research on Friday, November 15 at 3:00 pm in the Santa Fe Room (233) of the RSC.
Join the Office of International Education for a week of fun events during International Education Week Nov. 18-22. Most events are free to attend. Visit www.wichita.edu/ieweek for a full listing of events.
Alternative Spring Break will expose WSU students to complex social and cultural issues through community visits, experiential learning, direct service, group discussion, common readings and reflection activities. This year we are headed to Washington, D.C., to explore hunger and homelessness in our nation's capital. Pick up an application in Student Involvement, RSC 216, or go to wichita.edu/springbreak.
Members of the Shocker Sports Grill & Lanes Eat.Drink.Play. rewards program can enjoy Bonus Discount Fridays in November! Each Friday, add 5% to your current rewards discount. Not a rewards member? Joining is free and easy, just ask us on your next visit!
If you are a department or organization on campus looking to participate in Finals Frenzy week sponsored by Student Activities Council, submit your events at wichita.edu/finalsfrenzy by 5 pm on November 12th! Finals Frenzy week will take place on December 2-6, 2019.
Visit the Shocker Sports Grill & Lanes in November to try their Burger of the Month- the Quesadilla Burger! It's topped with melted cheddar, grilled jalapenos and onions, served quesadilla style. Want a meatless option? Just ask to sub in the beanie burger!
Mark your calendars for the Shocker Store's next one-day-only sale! On Wednesday, November 13, starting at 8 a.m., the Shocker Store will have two styles of sweatpants for $14.00 each, while supplies last. These will sell out, so hurry in! Limit 3 per customer. The sale is in-store at RSC location only. Offer not valid with other discounts or promotions and all sales are final.
Make someone else's day with Student Activities Council and assemble necessity kits for those in our community who might not have necessary everyday items. There will be a variety of items that can be put together to make a perfect care package. For one day, let's focus on someone else's happiness. For more information about SAC sponsored events, please visit wichita.edu/ sac or contact us at sac@wichita.edu.
"Yes, and-ing" to co-create something better. Register for Improv & Theatre Games, THEA 241, CRN 21321. A general education fine arts/humanities further studies course.
Celebrate Shocker basketball at the Shocker Sports Grill & Lanes with $2.50 WuShock Wheat cans! All-day, every game day! Visit the Shocker Sports Grill & Lanes on your way over to catch a home game or come watch the away games on one of their many TV's.
Stop by the Shocker Store (RSC location) from 10 a.m.-3 p.m. on Tuesday, November 12 and Wednesday, November 13 for Ring Day! Chat with CB Grad about class rings, graduation announcements and more. For more information, email shockerstore@wichita.edu or call 316-978-7021.
Take your Wichita State education on the road with the National Student Exchange. Contact Trish Gandu, Wichita State NSE Coordinator, for more information at (316) 978-6697 or trish.gandu@wichita.edu.
ACIREMA is an interactive workshop intended to simulate the experience and challenges of international students coming to the U.S. This event is on November 15 in the Rhatigan Student Center. Visit www.wichita.edu/acirema for more information and to register.
Would you like to learn more about volunteering in Wichita? Attend a Community Service Board (CSB) meeting! Meetings are held every Thursday from 3:30-5:00 pm in Room 142 of the RSC. During CSB meetings, guests have the opportunity to learn about and tour local nonprofits and work on community service projects to give back to the community. Community Service Board meetings are free and open for everyone to attend. For questions email: CSB@wichita.edu or call 316-978-7016.
Flu shots for students are $20.00. Bring your health insurance card and Student Health Services will file your insurance for the cost of the flu vaccine! 209 Ahlberg Hall Monday through Friday 8 a.m. – 5 p.m.
Come join Student Activities Council! General Member Meetings are held every Tuesday at 4:15 in RSC 233.
Dinner provided to the first 60 guests! Share in a Thanksgiving meal with your fellow classmates, our goal is to share a traditional Thanksgiving meal with our international students. The menu will include turkey, potatoes, stuffing, vegetables and pumpkin pie! Presented by the Community Service Board, Student Affairs and the Rhatigan Student Center.
Stop by the Shocker Sports Grill & Lanes to try their Fresh Mex menu items, available during lunch Monday-Friday! From tacos to burritos to chips and salsa, there's something for everyone.
Tutor youth in our community by providing homework assistance in a variety of subjects! Join us on November 18th from 4:00-6:30 pm at the Boys and Girls Club of South Central Kansas. Location: 2400 N Opportunity Dr., Wichita KS, 67219 Participants may register to volunteer at Wichita.edu/CSB.
RSVP now for Fall 2019 Commencement! Graduates must RSVP online at MyWSU by November 22 at 5:00 pm. Additional information can be found at wichita.edu/commencement.
Study Abroad in France next summer through the Global Entrepreneurship Experience Program. A special information session to learn more about this program will be on Tuesday, November 26th at 2 p.m. in the RSC room 142.
Join university libraries for our savvy researcher workshop on October 30 and November 13 and 15. for more information call Angela Paul at 316-978-5084.
Join university libraries for our entrepreneurship research series on November 12. for more information, call Sara Butts at 316-978-5017.
Are you interested in learning about what birth control methods are right for you? Join Student Health Services for a Contraception Coffee Chat! This is a 15-minute walk-in consultation with one of our college health specialists to discuss different contraception methods from 9 a.m.-11 a.m. Friday, Nov. 15, in 209 Ahlberg Hall
Learn about various technologies in our technology workshops on November 11, 12, 18, and 19! For more info, call Muhammad Usmani at 316-978-5131.
The Navigators meet every Thursday night at 7:30 pm in Hubbard 209 to "know Christ, make Him known, and help others do the same."