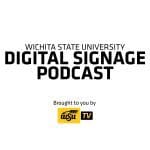 Here are your Wichita State University digital signage announcements for Monday, November 5th through Sunday, November 11th, 2018:
As the holiday season approaches, many prepare their turkeys and holiday trees, but have you ever wondered what these holiday celebrations look around the world? Join Student Activities Council and many culturally based student organizations at WSU in the RSC First Floor to celebrate the holidays held in other countries, cultures, and faiths through music, and performances. "What Do You Celebrate?" is Wednesday, November 7 from 10:30 a.m. – 12:30 p.m.
The Shocker Store thanks our veterans and active duty military! On Veterans Day, Sunday, November 11, from 12-6 p.m. at our Braeburn Square location, veterans and active duty military can take 20% off one regular priced WSU imprinted item with military ID.
The Shocker Sports Grill & Lanes thanks our veterans and active duty military! On Veterans Day, Sunday, November 11, from 2-9 p.m. they are offering free cosmic bowling for veterans, active duty military and their families. Must show military ID.
Stop by the Shocker Sports Grill & Lanes in the month of November to try their Burger of the Month, the Feast! It's a grilled turkey burger, topped with a grilled stuffing patty, swiss cheese and dried cranberries.
Members of the Shocker Sports Grill & Lanes EAT.DRINK.PLAY. Rewards program can enjoy free billiards every Sunday in November! Not a member? Joining is free and easy, just stop on by!
You're invited to the third annual International Thanksgiving Dinner at WSU on Tuesday, November 13, from 6:30-9 P.M.! Please come and gather around the table for traditional foods, activities and thanksgiving. The first 60 guests will enjoy a traditional meal of turkey, mashed potatoes and gravy, and more! The event is on a first come, first serve basis. For more information, visit
https://wichita.galaxydigital.com/event/detail/?event_id=49024
.
Alternative Spring Break will expose WSU students to complex social and cultural issues through community visits, experiential learning, direct service, group discussion, common readings, and reflection activities. This year we will be offering two different trips – Washington, D.C. exploring hunger and homelessness in our nation's capital and Houston, TX focusing on long term disaster recovery post Hurricane Harvey. Applications are due Friday, November 30th by 5 p.m.
Join us for an information session about the global entrepreneurship experience summer program in France on Wednesday, Nov 7th at 4 p.m. in the RSC room 256. Students of all majors are welcome to attend.
The Shocker Sports Grill & Lanes in the lower level of the Rhatigan Student Center is your Shocker basketball headquarters! Swing by for home basketball pregame to grab a burger, a salad, cold beer and more and enjoy game day deals each game! Or stop by to watch away games on one of their many TVs. Game day specials run all day, for both home and away men's basketball games. Let's cheer on the Shockers to another great season!
Save the date for the next one-day-only sale at the Shocker Store, featuring $12 sweatpants! Stop by the Shocker Store (RSC location ONLY) starting at noon on Thursday, November 8 to snag a great deal, while supplies last. These sell out fast, so make sure to get there early! Limit 3 per customer. Offer is not valid with other discounts or promotions and all sales are final.
Students have the opportunity to study abroad during summer 2019 in Rome, Italy for engineering classes. WSU students have a special discount price for the program. Please visit
www.wichita.edu/studyabroad
for more information on all of our summer programs.
Nav Night is a weekly large-group worship night put on by Navigators Campus Ministry. The group meets Thursdays at 7:30 p.m. in Hubbard Hall 209 for biblical teaching, worship, and small-group Bible studies. The Navigators exist on campus to know Christ, make Him known, and help others do the same.
The Alpha Theta Chapter of Sigma Psi Zeta Sorority, Inc. is hosting our annual Clothesline Project, a national campaign that brings awareness to the reality of gender based violence through a visual display. The display consists of t-shirts created by survivors of violence, or in honor of someone who has experienced violence, as well as a chance for the viewer to interact with the organizations supporting survivors.
Need your eyes checked? Get a quick and free eye testing from Student Health Services and the Medical Services Bureau 11 a.m. – 1 p.m. November 12 in RSC room 314.
From Student Health Services, the Office of Diversity and Inclusion, Housing and Residence Life and Positive Directions of Kansas is another Free HIV Testing. Get Tested and Know Your Status 1-4 pm November 6th in Ahlberg 209.
Engineering researchers will learn to create a literature review, from locating conference proceedings, standards and other primary resources to presenting findings. This workshop will be from 12 to 1:15 pm November 16 in RM 217 Ablah Library.
Discover library databases and open websites for data sets, census data, and statistics. This workshop will be from 4 to 5:15 pm November 14 in RM 217 Ablah Library.
Identify strategies to avoid plagiarism, and learn and practice using the American Psychological Association (APA) 6th edition style to write and format research papers and citation lists. This workshop will be from 12 to 1:15 pm November 9 in RM 217 Ablah Library.
Learn about what kinds of works can be protected by copyright, how to register a copyrighted work, and best practices for using others' copyrighted work. This workshop will be from 5:30 – 7 p.m. November 27 in RM 217 Ablah Library. For more information on this workshop call Sara Butts at (316) 978-5017.
This workshop will introduce inventors to types of patent applications, patent eligibility, parts of a patent application, how to find legal assistance, and understanding the basic patent examination process. This workshop will be from 5:30 – 7 pm November 6 in RM 217 Ablah Library. For more info call Sara Butts at (316) 978-5017.
Interested in sharing your research? Posters are an excellent way to share your work at conferences, competitions, and other events – but you need to make a good impression fast. This workshop will feature design techniques to clearly convey objectives, methods, and findings to a diverse audience. This workshop will be from 2 – 3:30 pm November 15 in RM 217 Ablah Library. For more info, contact Meghann Kuhlmann at (316) 978-5075.
Learn how to create and navigate a basic spreadsheet in MS Excel 2013. Creating new pages and sheets, tool bar navigation, using math operators and formula functions, using many basic tools such as sorting, manipulating rows and columns, and cell formatting will be practiced in this introduction. This workshop will be from 2 – 3:30 pm November 8 in RM 217 Ablah Library. Contact Angie Paul at (316) 978-5084 for more information.
Interested in joining an organization of the Multicultural Greek Council? Check out each organization's week!:
Delta Sigma Theta Sorority and Omega Psi Phi Fraternity Week: November 4-10
Sigma Gamma Rho Sorority Week: November 11-17