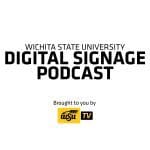 Here are your Wichita State University digital signage announcements for Monday, October 1st through Sunday, October 7th, 2018:
Garba is a traditional Indian dance form performed in the state of Gujarat, India. This year on 13th October 2018 AHINSA is organizing a Garba Night to celebrate the festival of Navratri at RSC 3rd Floor Beggs Ballroom. This is a free event and everyone is invited. Find the event on Facebook "Garba Night 2018."
Join us on Monday, October 8 at the Heskett Center with FREE shocker fit classes all day!
Join ISU's Interfest to have a taste of foods from around the world or be a vendor if you/your team can cook! Interfest is an International food festival that embraces a diverse range of dishes across the globe. The showcase of food is a gateway that brings the multi-cultural shocker community together. Interfest Fall 2018 is on October 4th from 11am-2pm in the Neff Hall courtyard-RSC East patio. You/your team can also be a vendor to sell food or volunteer at the event.
Join us Tuesday, October 9 at 6:00 p.m. in Hubbard Hall, room 208 for the viewing of Call Me Crazy: A Five Film, a 2013 drama featuring five short films about different psychiatric disorders. This film is followed by a panel discussion. Refreshments will be provided.
The Counseling and Testing Center is engaging in National Depression Screening Day. Please come to RSC 261 from 10am-1pm on Thursday, October 11th for a quick mental health check-up.
Stop by the Shocker Sports Grill & Lanes in October to try their Burger of the Month, the Zombie Burger! It's a grilled meatloaf burger, topped with bacon and red sauce.
Members of the EAT.DRINK.PLAY. Rewards program in the Shocker Sports Grill & Lanes can enjoy a 5% bonus discount every Friday in October. If you are not already a member, visit the sports grill counter or customer service and sign up for your free card today!
Poor People's Campaign: A National Call for Moral Revival presents the Kansas People's Hearing. Monday, October 8, 6:30PM at Hughes Metroplex Featuring local voices on poverty, systemic racism, war spending, and environmental degradation.
Mark your calendars for the Shocker Store's next one-day-only sale! On Wednesday, October 10, starting at noon, the Shocker Store will have two long sleeve t-shirts for $10.00 each, while supplies last. These will sell out, so hurry in! Limit 3 per customer. Sale is in store at RSC location only. Offer not valid with other discounts or promotions and all sales are final.
Stop by the Rhatigan Student Center every Wednesday for the live music series, RSC Unplugged. RSC Unplugged for Wednesday, October 3 features Scott Allan Knost from 11 a.m.-1 p.m. in the RSC's Starbucks Lounge. Grab a cup of coffee and relax with some great music!
The Shocker Store is selling new pink merchandise in October during Breast Cancer Awareness Month! For each item sold, $1.00 will be donated to Victory in the Valley, who provides support to cancer patients, survivors and their families in the area. There is a short sleeve and long sleeve t-shirt option featured, for $9.99 and $12.99 respectively. This offer is good while supplies last and is valid in the RSC store location only. No discounts accepted on this merchandise.
Family Fun Day: Saturday, October 27, 1–3 p.m. at the Ulrich Museum of Art. Bring the whole family for an afternoon of gallery exploration, games, and hands-on art making activities inspired by the artists, ideas, and materials featured in our fall exhibitions. Snacks and refreshments provided. Free and open to the public.
Sharing | Learning | Action: A Celebration of Horizontes. Monday, October 29, 5 P.M. at the Advanced Learning Library, 711 W 2nd Street N. Join artists, community members, elected officials, and stakeholders for an interactive forum on the impact of this artist-driven project and learn more about priorities and needs of the residents of the Northend neighborhoods. What's in your horizon?
Student Health Services is now offering seasonal flu shots to currently enrolled WSU students while supplies last. No appointment necessary. Stop by Ahlberg 209, call us at 316-978-3620, or visit us online at
wichita.edu/shs
Burnt Generation: Azadeh Akhlaghi and Gohar Dashti. Tuesday, October 23, 5:30 p.m. Reception at Ulrich Museum, 6:00 p.m. Program at CAC Theater. Exhibition artists discuss the personal, political, and social themes in their work with Dr. Jessica Gerschultz, Assistant Professor, The Kress Foundation Department of Art History, African/African American Studies, University of Kansas.
Sculpture Glow at the Ulrich Museum of Art. Wednesday, October 10, 7:30 p.m., McKnight West Atrium. An after-hours exploration of the Martin H. Bush Outdoor Sculpture Collection as the glow of the evening light shifts from sunset to darkness. Flashlights and glow sticks fill the path of selected artwork—by some of the world's most celebrated artists—for an adventurous evening engaging with the most beloved sculptures on campus. Hot apple cider and donuts cap off the evening.
Join University Libraries for ICPSR's Data Fair 2018 – "Data: Powered By You." In this webinar series, you can learn about current trends and best practices in data transparency, data activism, what to do with data, and more! The series will take place October 1-5 at various times. The webinar series is entirely virtual and free to the public. For times and webinar descriptions, call (316) 978-5081.
Careers for the Creative, October 18, from 11:00 a.m. to 1:00 p.m. in RSC 256 offers students the opportunity to meet employers with either creative roles or offering internships and jobs in creative fields such as art, design, entertainment, media, advertising, creative writing and more! Don't miss this opportunity to follow your passion!
From Student Health Services and Positive Directions of Kansas comes Free HIV testing. Get tested and know your status 1-4 p.m. October 2nd in 209 Ahlberg Hall.
Attend the information session to learn more about the South American Travel Seminar to Paraguay for May 2019. The session will be on Friday, October 5th at 3 p.m. in the RSC room 142.
Join University Libraries for a book talk with Dr. Rannfrid Thelle at 4 pm on Monday, October 1 in the lower level of Ablah Library. For more information, call (316) 978-5210.
We are thrilled to announce that the Ulrich Museum of Art mobile app is now available in the App Store and Google Play Store. This free digital resource is the easiest way to see what's happening at the Ulrich anytime, wherever you are.
Get tested and know your status. Student Health Services and Positive Directions of Kansas bring you Free HIV Testing, 1-4 pm October 2nd in 209 Ahlberg hall.
B.A. Shapiro: The Collector's Apprentice. Reading and Book Signing with New York Times bestselling author B.A. Shapiro on Wednesday, October 24, 2018. 5:30 P.M. Reception, 6 P.M. Program. Presented in partnership with Watermark Books & Café.
Empty Bowls Chili Cook-off on Saturday, Oct 13 from 11am – 1pm in Henrion Hall. Join the fight against hunger in our community! In exchange for your $20 donation, you choose a bowl to keep as a reminder of all the empty bowls in the world. Empty Bowls Chili Cook-off is in collaboration with the WSU Ceramics Guild, Ceramics Media, and the School of Art, Design and Creative Industries.
Whether you are seeking to get involved in student organizations or discover what events are happening around campus, ShockerSync is your path to connecting with student life. The ShockerSync site is accessible to anyone to see what is happening in Shocker Nation!
McNair Scholars Program is looking for a Writing Tutor/Student Assistant. Apply through WSU's Handshake or come by the office located in Grace Wilkie Annex Rm 173.
Go beyond the basic search box with advanced search techniques like proximity searching, setting filters and limits, and using wildcards. This workshop will be held from 4:00 p.m. to 5:15 p.m. October 26 in room 217 of the Ablah Library.
This workshop will be from 5:30 p.m. to 7:00 p.m. October 23 in room 217 Ablah Library and will introduce new inventors to types of patents and applications, patent eligibility, parts of a patent, how to find free assistance, and more.​ For more info call Sara Butts at (316) 978-5017.
An overview of freely available graphic design software programs and their application to small businesses including promotional flyers, brochures and mailers, business cards, professional presentations, and social media posts. Basic design principles and branding considerations will also be discussed. This workshop will be from 5:30 to 7:00 p.m. October 2, in Room 217, Ablah Library. For more info call Meghann Kuhlmann at (316) 978-5075.
Explore resources for listening, viewing and creating music at the WSU Libraries. Discover tips and tricks for engaging with music materials online, such as creating a personal playlist in the audio streaming databases, searching within streaming databases, as well as finding scores and sound recordings in various formats. This workshop will be from 2 – 3:30 pm October 25 in RM 217 Ablah Library. For more information contact Rachel Crane at (316) 978-5078.
Learn how to present information with charts, tables, smart art, and infographics to engage your audience. Discover new ways to spice up your PowerPoint presentation with fun designs, sounds, transitions, and animations. This is a hands-on workshop will be from 2 – 3:30 pm October 4 in RM 217 Ablah Library. For more information contact Sara Butts at (316) 978-5017.
A message from Called to Greatness Ministries: "God is orchestrating a plan to bring His reign of justice, love, peace and blessing into every nation, people group and culture. Join us each Thursday night from 7-9pm as we discover and discuss God's plan and purpose for all that is around us. Meeting in room 258 in the RSC!"
Interested in joining an organization of the Multicultural Greek Council? Check out each organization's week!:
Sigma Gamma Rho Sorority Week: November 11-17
Delta Sigma Theta Sorority and Omega Psi Phi Fraternity Week: November 4-10