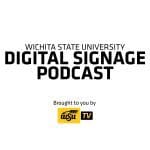 Here are your Wichita State University digital signage announcements for Monday, October 21st through Sunday, October 27th, 2019:
Stop by the Rhatigan Student Center every Wednesday for the live music series, RSC Unplugged. RSC Unplugged for Wednesday, October 23 features Poke Salad Orchestra from 11 a.m.-1 p.m. in the RSC's Starbucks Lounge. Grab a cup of coffee and relax with some great music!
Soup is back at the Shocker Sports Grill & Lanes just in time for the cooler weather! A different soup will be featured each week, Monday-Friday. Grab a cup for $2.99 or a bowl for $3.99. For October 21-25, the Soup of the Week is Tomato.
Stop by the Shocker Sports Grill & Lanes to try their Fresh Mex menu items, available during lunch Monday-Friday! From tacos to burritos to chips and salsa, there's something for everyone.
Tutor youth in our community by providing homework assistance in a variety of subjects! Join us on October 28th from 4:00-6:30 pm at the Boys and Girls Club of South Central Kansas. Location: 2400 N Opportunity Dr., Wichita KS, 67219 Participants may register to volunteer at https://www.wichita.edu/student_life/community_service_board/CSB_Volunteer.php.
The 12th Annual Miss Black and Gold Scholarship Competition hosted by the Delta Mu Chapter of Alpha Phi Alpha Fraternity Incorporated is here. This pageant is dedicated to uplifting and empowering beautiful and intelligent women while allowing them to express their gifts to the world. 
Come to the RSC 1st floor at 8 pm on Wednesday, October 30th and join SAC for some casino games, costumes, and prizes for Costume Casino!
2019 Teacher of the Year Award voting will be October 21st through November 4th. Vote for your favorite teacher. 2 $500 Scholarships will be awarded to a student who voted.
RSVP now for Fall 2019 Commencement! Graduates must RSVP online at MyWSU by November 22 at 5:00 pm. Additional information can be found at wichita.edu/commencement.
Peru International Leadership Program is available to students of any major for June 2020 through study abroad programs. November 1st is the deadline to apply. For more information, please contact Ann Burger at ann.burger@wichita.edu.
The Shocker Store is selling new pink merchandise starting October 1 during Breast Cancer Awareness Month! For each item sold, $1.00 will be donated to Victory in the Valley, who provides support to cancer patients, survivors and their families in the area. There is a short sleeve tee ($8.00), a long-sleeve tee ($13.99) and pajama pants ($20.00). This offer is good while supplies last and valid at both the RSC and Braeburn Square locations. No discounts accepted on this merchandise.
Join the LGBTQ+ Shocker Ambassadors for their first-ever shared read! This second meeting is to check in with everyone regarding the chosen book. We will discuss the experiences from the book thus far and catch up with those who would like to join our shared read. Save the date for our final book chat on Wednesday, October 30. Light refreshments will be served.
Student Activities Council is asking Organizations and Departments on Campus to submit any events they are hosting during finals frenzy this semester. Submissions must be through Shockersync. For more information on Finals Frenzy and how to submit your event, visit https://wichita.edu/finalsfrenzy.
Anything Goes presented by WSU School of Performing Arts Musical Theatre program. Thursday, Oct. 31 – Saturday, Nov 2 at 7:30 pm, Sunday, Nov. 3 at 2:00 pm. Wilner Auditorium. 316-978-3233 or online at www.wichita.edu/fineartsboxoffice for tickets.
TRIO Disability Support Services invites you to be one of the select few to receive free services such as tutoring, specialized academic advising, advocacy, and support to help students with disabilities graduate. Visit us in the Grace Wilkie Annex, room 158 or give us a call at 316-978-5949!
Over 1000 glow sticks are available to be worn by our participants along with black lights around the room to light up the room. The ultimate Yoga experience that you do not want to miss!
Join university libraries for our savvy researcher workshop on October 25 and 30 and November 1, 6, and 8. for more information call Angela Paul at 316-978-5084.
Join university libraries for our entrepreneurship research series on October 22 and 29 and November 5. for more information, call Sara Butts at 316-978-5017.
Join University Libraries at Halloween ComicFest from 1 – 3 pm October 26 in Ablah Library! For more info, call Lizzy Walker at 316-978-5138.
The Prevention Services Advisory Board (PSAB) is currently recruiting students to become Prevention Ambassadors. They will assist the PSAB in our mission that aligns with the #WSUWeSupportU prevention program. This position qualifies for a zero-credit internship and will provide the opportunity to engage with the WSU community. Please go to Wichita.edu/PrevAm for more information.
Low-cost flu vaccines for WSU students only will be available for $20.00 beginning October 1st, 2019 in Student Health Services, 209 Ahlberg Hall. Flu vaccines can be given 8 am. to 5 p.m. Monday through Friday. No appointment is necessary.
Pee for Pizza is a free sexually transmitted disease-testing event for chlamydia and gonorrhea. Walk-in and submit a urine specimen, and walk-out with free pizza and a piece of mind from 1-4 p.m. Wednesday, Sept. 18, in 209 Ahlberg Hall.
Members of the Shocker Sports Grill & Lanes' Eat.Drink.Play. Rewards program members can enjoy buy one, get one free bowling games every Friday in October! $2.00 shoe rental fee applies. Not a member? Joining is free and easy, just stop by the counter!
Stop by the Shocker Sports Grill & Lanes in October to try their Burger of the Month- the Classic Lamb Burger! It's 4 oz of ground lamb, topped with American or pepper jack cheese and served with their house-fried chips.
The second annual Fright Night: Haunting at the Heskett is a night of scary events and fun adventures. Join us for a haunted house, escape room, movies, games and more! October 25th, 9-11 p.m.
Join the Community Service Board in serving a meal at the Lord's Diner on October 23rd from 5:00-8:00 pm. Location: Lord's Diner (Hillside Location) 2825 S. Hillside St., Wichita, KS 67216 Participants may register at: For questions email CSB@wichita.edu.
Help the youth in our community by providing homework assistance in a variety of subjects! Join us on October 28th from 4:00-6:30 pm at the Boys and Girls Club of South Central Kansas. Location: 2400 N Opportunity Dr., Wichita KS, 67219 Participants may register to volunteer at https://wichita.galaxydigital.com/need/detail/?need_id=455937. For questions email CSB@wichita.edu.
Learn about various technologies in our technology workshops! For more info, call Muhammad Usmani at 316-978-5131.
The Navigators meet every Thursday night at 7:30 pm in Hubbard 209 to "know Christ, make Him known, and help others do the same."