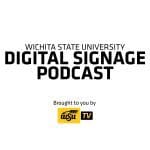 Here are your Wichita State University digital signage announcements for Monday, October 29th through Sunday, November 4th, 2018:
Go trick-or-treat with SAC around the school! Maps will be in the Rhatigan Student Center so grab one quick and go get started on your journey for prizes! "Little Shock of Horrors" Wednesday, October 31 from 8:30 a.m. to 4:30 p.m. Contact
sac@wichita.edu
for more information.
Calling all Freshman and Underserved Students: The SGA Special Election is now open. If you are interested in running for office to serve in the 61st Session, please visit our website at
www.wichita.edu/sga
under the Elections section to find out how to complete your Declaration of Candidacy paperwork. Questions? Please contact
sga.elections@wichita.edu
The Shocker Sports Grill & Lanes in the lower level of the Rhatigan Student Center is your Shocker basketball headquarters! Swing by for home basketball pregame to grab a burger, a salad, cold beer and more and enjoy game day deals each game! Or stop by to watch away games on one of their many TVs. Game day specials run all day, for both home and away men's basketball games. Let's cheer on the Shockers to another great season!
Stop by the Rhatigan Student Center every Wednesday for the live music series, RSC Unplugged. RSC Unplugged for Wednesday, October 31 features Vince Serrioz from 11 a.m.-1 p.m. in the RSC's Starbucks Lounge. Grab a cup of coffee and relax with some great music!
Save the date for the next one-day-only sale at the Shocker Store, featuring $12 sweatpants! Stop by the Shocker Store (RSC location ONLY) starting at noon on Thursday, November 8 to snag a great deal, while supplies last. These sell out fast, so make sure to get there early! Limit 3 per customer. Offer is not valid with other discounts or promotions and all sales are final.
Students have the opportunity to study abroad during summer 2019 in Rome, Italy for engineering classes. WSU students have a special discount price for the program. Please visit
www.wichita.edu/studyabroad
for more information on all of our summer programs.
Nav Night is a weekly large-group worship night put on by Navigators Campus Ministry. The group meets Thursdays at 7:30 p.m. in Hubbard Hall 209 for biblical teaching, worship, and small-group Bible studies. The Navigators exist on campus to know Christ, make Him known, and help others do the same.
Curious about the art world and how to run a gallery? Join us for the first WSU Shiftspace Gallery student group on October the 23rd from 4-5pm in the McKnight Art Center atrium. Student group meets every 4th Tuesday of the month.
The Alpha Theta Chapter of Sigma Psi Zeta Sorority, Inc. is hosting our annual Clothesline Project, a national campaign that brings awareness to the reality of gender based violence through a visual display. The display consists of t-shirts created by survivors of violence, or in honor of someone who has experienced violence, as well as a chance for the viewer to interact with the organizations supporting survivors.
Graduating Students need to RSVP online at MyWSU by Nov. 26th at 5 p.m. Additional information can be found at
wichita.edu/commencement
.
Join Black Student Union and Love Your Melon in a balloon release for Breast Cancer Awareness month. The balloon release will be held at 3pm, Friday October 26th, in front of Duerksen Fine Arts Center. Students, Faculty, Staff, and the Wichita community are encouraged to attend this event.
Need your eyes checked? Get a quick and free eye testing from Student Health Services and the Medical Services Bureau 11 a.m. – 1 p.m. November 12 in RSC room 314.
Ghost Hunter Chris Moon and Paranormal Investigator, will present a session on the ins and outs of the paranormal and then lead a ghost hunt across campus with a select number of participants. He has been on truTV's "Door to the Dead", NBC "Today's Show", and numerous radio talk shows around the world. Free to WSU students with Shocker ID, $3 faculty and staff, and $5 for the general public
Bruce Tulgan will be giving an educational seminar on the Great Generational Shift on November 13th from 1:00-5:00 PM in the Hyatt Regency Ballroom. This session will help younger participants better understand how they fit into the workplace mold. Register at
www.wichita.edu/kfbf
– the first 15 students to register get in free!
Join us for the 9th Annual Drag Show at 8 p.m. on Friday, November 2 in the CAC Theater featuring Blair St. Clair. Tickets are free for WSU students, $8 for faculty/staff and $10 for general admission.
From Student Health Services, the Office of Diversity and Inclusion, Housing and Residence Life and Positive DIrections of Kansas is another Free HIV Testing. Get Tested and Know Your Status 1-4 pm November 6th in Ahlberg 209.
Sex in the Dark, Halloween. A safe place to ask your scariest questions. Join us 7-8 pm October 30th in RSC 233 to anonymously ask your sex health questions to our panel of experts.
Get tested and know your status with Pee for Pizza Halloween! Stop by 1-4 pm October 31st in Ahlberg 209 to receive free testing and free pizza.
Know a fantastic faculty member who deserves a shout out? Let them know! The Academy for Effective Teaching urges all eligible students to vote for their outstanding faculty member at WSU. Go to
webapps.wichita.edu/favote
to vote! Voting for the 2018 AET Awards is open from Monday, October 29th through Monday, November 12th. For more information visit
wichita.edu/aet
.
International students graduating this semester should apply for OPT. Start by completing the OPT tutorial found at
wichita.edu/international
.
Sharing | Learning | Action: A Celebration of Horizontes. Monday, October 29, 5 P.M. at the Advanced Learning Library, 711 W 2nd Street N. Join artists, community members, elected officials, and stakeholders for an interactive forum on the impact of this artist-driven project and learn more about priorities and needs of the residents of the Northend neighborhoods. What's in your horizon?
Student Health Services is now offering seasonal flu shots to currently enrolled WSU students while supplies last. No appointment necessary. Stop by Ahlberg 209, call us at 316-978-3620, or visit us online at
wichita.edu/shs
.
Engineering researchers will learn to create a literature review, from locating conference proceedings, standards and other primary resources to presenting findings. This workshop will be from 12 to 1:15 pm November 16 in RM 217 Ablah Library.
Discover library databases and open websites for data sets, census data, and statistics. This workshop will be from 4 to 5:15 pm November 14 in RM 217 Ablah Library.
Identify strategies to avoid plagiarism, and learn and practice using the American Psychological Association (APA) 6th edition style to write and format research papers and citation lists. This workshop will be from 12 to 1:15 pm November 9 in RM 217 Ablah Library.
In the "Where Can I Find Primary Resources?" workshop, discover library databases and open websites for various types of primary sources, including diaries, company records, photographs, and maps. This workshop will happen from 4 – 5:15 pm October 31 in RM 217 Ablah Library.
In the "What More Can I Do With Endnote?" workshop, customize citation styles, edit parenthetical citations, and sync multiple devices. This workshop will be from 12 to 1:15 pm November 2 in RM 217 Ablah Library.
This workshop will introduce inventors to types of patent applications, patent eligibility, parts of a patent application, how to find legal assistance, and understanding the basic patent examination process. This workshop will be from 5:30 – 7 pm November 6 in RM 217 Ablah Library. For more info call Sara Butts at (316) 978-5017.
In the "Introduction to Patent Search" workshop, Learn how to conduct a patent search using keywords and classification using free online patent databases. This workshop will be from 5:30 – 7 pm October 30 in RM 217 Ablah Library. For more information, call Sara Butts at (316) 978-5017
Interested in sharing your research? Posters are an excellent way to share your work at conferences, competitions, and other events – but you need to make a good impression fast. This workshop will feature design techniques to clearly convey objectives, methods, and findings to a diverse audience. This workshop will be from 2 – 3:30 pm November 15 in RM 217 Ablah Library. For more info, contact Meghann Kuhlmann at (316) 978-5075.
Learn how to create and navigate a basic spreadsheet in MS Excel 2013. Creating new pages and sheets, tool bar navigation, using math operators and formula functions, using many basic tools such as sorting, manipulating rows and columns, and cell formatting will be practiced in this introduction. This workshop will be from 2 – 3:30 pm November 8 in RM 217 Ablah Library. Contact Angie Paul at (316) 978-5084 for more information.
Interested in joining an organization of the Multicultural Greek Council? Check out each organization's week!:
Delta Sigma Theta Sorority and Omega Psi Phi Fraternity Week: November 4-10
Sigma Gamma Rho Sorority Week: November 11-17