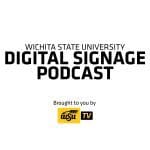 Here are your Wichita State University digital signage announcements for Monday, September 2nd through Sunday, September 8th, 2019:
Love Me or Leave Me by Emily Kirkman. Winner of the WSU Theatre program National Playwriting Competition. Sept. 18-21 at 7:30 pm, Sept. 21 & 22 at 2:00 pm at the Welsbacher Theatre, 29th and Oliver entrance 'F'. Tickets $10.00. 978-3233 for tickets. Rated PG.
September is suicide prevention month. Join Counseling and Prevention Services on September 9th at 1 pm. Go to MyTraining or wichita.edu/suicideprevention to sign up.
Student tickets are FREE for all WSU Athletic events. Visit goshockers.com/studenttickets to learn more.
Helping students with disabilities graduate! TRIO DSS is currently accepting applications for the 2019-2020 school year. Stop by the Grace Wilkie Annex, room 158, to apply.
Undergraduate student research funds are available. Full-time sophomores, juniors, or seniors with a GPA of at least 2.5 and at least two semesters remaining at WSU are invited to apply for grants of up to $1,000 for research or creative projects. Visit www.wichita.edu/undergradresearch for more information.
Does the idea of a data-driven workplace intimidate you? The Graduate School and Instructional Design & Access have come together to present Data Analysis for Beginners," part of the Graduate School's fall Professional Development Series. Join us on Thursday, September 5 5:00-6:30 p.m. in the Pike Room (RSC 266) to learn some basic concepts about data!
Are you interested in studying abroad? Do you want to learn more about study abroad programs offered by Wichita State University? Come to our Study Abroad Fair on Tuesday, September 17th from 10 a.m. to 2 p.m. in the RSC 1st floor to visit over 20 different informational tables and hear about student experiences.
The Shocker Sports Grill & Lanes has added back a selection of freshly prepared Mexican cuisine to the menu! Fresh Mex is now available for lunch, Monday through Friday. Stop in and grab a taco, burrito or some chips with white queso and our house-made salsa!
Stop by the Rhatigan Student Center every Wednesday for the live music series, RSC Unplugged. RSC Unplugged for Wednesday, September 4 features Stringhounds from 11 a.m.-1 p.m. in the RSC's Starbucks Lounge. Grab a cup of coffee and relax with some great music! 
Members of the Eat.Drink.Play. Rewards program in the Shocker Sports Grill & Lanes can enjoy free billiards from 4-7 p.m. Monday-Friday in the month of September! Not a member? Joining is free and easy, simply stop on by!
Stop by and try the Shocker Sports Grill & Lanes Burger of the Month for September- the Barnyard Burger! It consists of a hamburger patty, crispy chicken patty, 2 strips of bacon and American cheese.
This year marks the 60th anniversary of the opening of the Rhatigan Student Center! From September 9 – 13, enjoy great discounts and deals at the 1st-floor food court and the Shocker Sports Grill & Lanes.
Join us at 11 a.m. on Wednesday, September 11 on the RSC 1st floor to celebrate the RSC turning 60 with some delicious cake and a free RSC 60th coffee mug! While supplies last.
This year marks the 60th anniversary of the opening of the Rhatigan Student Center, formerly the Campus Activities Center! To celebrate, from September 9-13, the RSC will have a week's worth of fun activities, sales, and discounts! From $6.00 t-shirts to free cake, to build-your-own teddy bears, there's something for everyone. See the full schedule and event information at www.wichita.edu/RSC60. 
Learn to use Endnote to upload citation data from library databases, create new citations in various citation styles, organize citations, and insert citations into an MS Word document at our helpful workshop from 12 – 1 pm Friday, September 13 in 217 Ablah Library. For more info call Angie paul at (316) 978-5084.
Inventions, designs, original works of authorship, and trade secrets can provide you with economic benefits. Learn the basics of intellectual property protection at our helpful workshop from 5:30 – 7 pm Tuesday, September 10 in 217 Ablah Library. For more info call Sara Butts at (316) 978-5017.
Save time and get better results in your research utilizing techniques like proximity searching, setting filters and limits, and using thesauri and wildcards at our helpful workshop from 4 – 5 pm Wednesday, September 11 in 217 Ablah Library. For more info call Angie Paul at (316) 978-5084.
Join university libraries for a tour of Ablah Library! See the VR Zone, the One-Button Studio and other multi-media project development tools, as well as study rooms, collections, and other spaces. We will also get a brief introduction to article databases other off-campus access to library resources at our helpful workshop from 12 – 1 pm Friday, September 6 in 217 Ablah Library. For more info call Angie Paul at (316) 978-5084.
Learn all the steps to create a literature review, from conducting comprehensive research to synthesizing perspectives to presenting your findings at our helpful workshop from 4 – 5 pm Wednesday, September 4 in 217 Ablah Library. For more info call Angie Paul at (316) 978-5084.
Join University Libraries for Tech Tuesdays from 12 – 2 pm in c-space every Tuesday during the fall semester! Learn about different technologies including 3d pens, VR, scanners, and more!
Join University Libraries for Monday Technology workshops and learn about NoSQL from 1 to 2 pm Monday, Sept 9 in C-Space. 
Academic Affairs is holding a competition to propose new interdisciplinary certificates, minors, undergraduate, or graduate programs that will be focused on addressing the future needs of our students and the community. This is an opportunity to dream: what programs will attract new students and will make the biggest difference to the people of the region and Kansas?
Mark your calendars for the Shocker Store's first one-day-only sale of the school year! On Tuesday, September 10, the Shocker Store (RSC location only) will have two t-shirts available for $6.00 each, while supplies last. The store opens at 8 a.m. and they will sell out, so hurry on in that day! Limit 3 per customer. The sale is in-store only. Offer not valid with other discounts or promotions and all sales are final.
Start your weekend early with karaoke nights at the Shocker Sports Grill & Lanes! From 6-10 p.m. every Thursday, come relax with your friends and sing some tunes! Also, enjoy $2.00 Bud Light draws and $1.00 fountain beverages. For more information, call (316) 978-3479.
WSU students who need professional clothing for career fairs, interviews, and professional development opportunities should come to the Professional Dress Clothing Closet Event. Items available may include suits, dress pants, professional shirts or blouses, professional skirts, belts, neckties, briefcases, shoes, cuff links, tie clips and more. No appointment is necessary. Just stop by!
WSU Engineering and I.T. students have an exciting opportunity to connect with employers who are looking to hire interns, co-op students, and full-time employees. Professional dress is required. The fair is being held in the Rhatigan Student Center. Check-in for the event will be in the Wu Lounge on the 2nd floor. (Wu Lounge is next to Room 221)
Attend the annual Mini-Wellness Fair to learn about your on-campus health and wellness resources. Stop by 11 am – 1 pm on Wednesday, September 11th on the North Lawn of the RSC. Freebies, information and enter the drawing for great prizes!
Sigma Psi Zeta Sorority, Inc. is a progressive, multicultural Greek organization. If you want to know about what we're all about, come out to our recruitment week from September 3rd through the 6th. All interests must attend 2 events and 1 G.I.M.
Find true north: Join the Navigators every Thursday night as we know Christ, make Him known, and help others do the same. We meet every Thursday at 7:30 pm in Hubbard 209.
Getting involved with student clubs, organizations and activities is a great way to build your network of friends and gain valuable leadership experience! With hundreds of student organizations to choose from, visit www.shockersync.wichita.edu to get involved today!
Friday poker is back at the Shocker Sports Grill & Lanes! Two FREE tournaments are offered every Friday at 11 a.m. and 2 p.m. Each weekly winner receives $10 cash and qualifies for our semester championship tournament in December which awards $100 to the winner and $50 to the runner-up. For more information, call (316) 978-3479.
Need a place to study? The Rhatigan Student Center now has a daily, designated study room! Each day, the RSC's Event Services office will designate an open room as the official "study room" of the day! The designated room will be posted each morning outside of the Event Services office (RSC 234) or check the digital screens throughout the RSC. The doors will be unlocked and open to students to come and go as they please!
A support group facilitated by the Wichita Area Sexual Assault Center in partnership with CAPS. This group will focus on healing from traumatic experiences. Group members will explore the healing process, coping mechanisms, and learn how to identify and manage triggers.