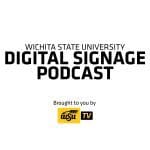 Here are your Wichita State University digital signage announcements for Monday, September 24th through Sunday, September 30th, 2018:
On Wednesday, September 26th, from 5:00 – 8:00 p.m., join the Community Service Board in serving a meal at The Lord's Diner! Pre-registration is required at
wichita.edu/csbvolunteer
.
Burnt Generation: Azadeh Akhlaghi and Gohar Dashti. Tuesday, October 23, 5:30 p.m. Reception at Ulrich Museum, 6:00 p.m. Program at CAC Theater. Exhibition artists discuss the personal, political, and social themes in their work with Dr. Jessica Gerschultz, Assistant Professor, The Kress Foundation Department of Art History, African/African American Studies, University of Kansas.
Sculpture Glow at the Ulrich Museum of Art. Wednesday, October 10, 7:30 p.m., McKnight West Atrium. An after-hours exploration of the Martin H. Bush Outdoor Sculpture Collection as the glow of the evening light shifts from sunset to darkness. Flashlights and glow sticks fill the path of selected artwork—by some of the world's most celebrated artists—for an adventurous evening engaging with the most beloved sculptures on campus. Hot apple cider and donuts cap off the evening.
Join University Libraries for ICPSR's Data Fair 2018 – "Data: Powered By You." In this webinar series, you can learn about current trends and best practices in data transparency, data activism, what to do with data, and more! The series will take place October 1-5 at various times. The webinar series is entirely virtual and free to the public. For times and webinar descriptions, call (316) 978-5081.
The newest Shocker Store location in Wichita State University's retail area, Braeburn Square, will have its grand opening from 10 a.m.-8 p.m. on Saturday, September 29. The first 50 guests through the door will receive a Shocker Store gift card with a random dollar amount on it. The next 50 guests through the door will receive a Shocker Store t-shirt.
Stop by the Rhatigan Student Center every Wednesday for the live music series, RSC Unplugged. RSC Unplugged for Wednesday, September 26 features Made From Scratch from 11:00 a.m. to 1:00 p.m. in the RSC's Starbucks Lounge. Grab a cup of coffee and relax with some great music!
Come to the Global Village Assembly and listen to poetry and drums. Share your thoughts and read your creative pieces at an evening of cultural sharing. The theme is Planting/Sowing Hope (Me, You, Them, World etc.)
Come have some coffee and conversation about this year's WSU Reads book Just Mercy by Bryan Stevenson. Enjoy talking with fellow shockers about the books or just topics such as social justice and helping others. Event is from 11:00 a.m. to 1:00 p.m. on the RSC 1st floor.
Careers for the Creative, October 18, from 11:00 a.m. to 1:00 p.m. in RSC 256 offers students the opportunity to meet employers with either creative roles or offering internships and jobs in creative fields such as art, design, entertainment, media, advertising, creative writing and more! Don't miss this opportunity to follow your passion!
From Student Health Services and Positive Directions of Kansas comes Free HIV testing. Get tested and know your status 1-4 p.m. October 2nd in 209 Ahlberg Hall.
Jeremy David Tarrant kicks off the Rie Bloomfield Organ Series SEPTEMBER 25 with his 7:30 pm performance in Wiedemann Hall on the WSU main campus. Canon Precentor and Organist-Choirmaster of the Cathedral Church of St. Paul, Detroit, Tarrant directs an internationally recognized comprehensive music program.
Attend the information session to learn more about the South American Travel Seminar to Paraguay for May 2019. The session will be on Friday, October 5th at 3 p.m. in the RSC room 142.
Join University Libraries for a book talk with Dr. Rannfrid Thelle at 4 pm on Monday, October 1 in the lower level of Ablah Library. For more information, call (316) 978-5210.
We are thrilled to announce that the Ulrich Museum of Art mobile app is now available in the App Store and Google Play Store. This free digital resource is the easiest way to see what's happening at the Ulrich anytime, wherever you are.
Student Activities Council presents: Identity Exploration: An Interactive Discussion.This program encourages students to explore, develop, and understand their personal identities.This event will include activities, discussion and free food. Spacing is limited, please reserve your spot at
wichita.edu/sac
Get tested and know your status. Student Health Services and Positive Directions of Kansas bring you Free HIV Testing, 1-4 pm October 2nd in 209 Ahlberg hall.
B.A. Shapiro: The Collector's Apprentice. Reading and Book Signing with New York Times bestselling author B.A. Shapiro on Wednesday, October 24, 2018. 5:30 P.M. Reception, 6 P.M. Program. Presented in partnership with Watermark Books & Café.
Empty Bowls Chili Cook-off on Saturday, Oct 13 from 11am – 1pm in Henrion Hall. Join the fight against hunger in our community! In exchange for your $20 donation, you choose a bowl to keep as a reminder of all the empty bowls in the world. Empty Bowls Chili Cook-off is in collaboration with the WSU Ceramics Guild, Ceramics Media, and the School of Art, Design and Creative Industries.
Our annual event, Game of Life will be held on 25th of September 2018 from 10.30am – 1pm at Hubbard Hall, South Lobby. It's being adapted from the Reality U program that is put on by Communities in Schools and also the board game "The Game of Life". The event will be as if the student's life is 10 years in the future and they will make decisions on what their circumstances will be. They will choose their career and be given the average salary and that's the "money" they have to spend.
Whether you are seeking to get involved in student organizations or discover what events are happening around campus, ShockerSync is your path to connecting with student life. The ShockerSync site is accessible to anyone to see what is happening in Shocker Nation!
On Monday, September 17th, from 4 – 6:30 P.M., join us in helping the youth in our community by providing homework assistance in a variety of subjects at the Boys & Girls Club! No experience is required. Pre-registration is required at
wichita.edu/csbvolunteer
.
McNair Scholars Program is looking for a Writing Tutor/Student Assistant. Apply through WSU's Handshake or come by the office located in Grace Wilkie Annex Rm 173.
In October, the Shocker Sports Grill & Lanes will be adding Fresh Mex to its menu. Soon, you will be able to enjoy traditional Mexican cuisine including freshly made tacos, burritos, sanchos and more! Our existing menu will remain intact as well with all of your sports grill style favorites. Fresh Mex will be in addition to our regular menu and be made available Monday – Friday.
Stop by the Shocker Sports Grill & Lanes in September to try their Burger of the Month, the Barnyard Burger! Our hamburger patty is topped with a chicken patty, 2 strips of bacon and American cheese. Try it while it's here!
Members of the EAT.DRINK.PLAY. Rewards program in the Shocker Sports Grill & Lanes can enjoy Monday madness each Monday in September. Enjoy $1 bowling games from 5:00 p.m. to 9:00 p.m. Offer valid exclusively for rewards program members. Shoe rental is extra and availability may vary due to group reservations and special events. Other restrictions may apply. Not a member? Simply visit our sports grill or bowling customer service counter and sign up for your free membership today!
In the "Where Can I Find Primary Sources?" workshop, discover library databases and open websites for various types of primary sources, including diaries, company records, photographs, and maps in this very helpful workshop. This workshop will be held from 12:00 p.m. to 1:15 p.m. September 28 in RM 217, Ablah Library.
In the "How Do I Write Papers In APA Style?" workshop, identify strategies to avoid plagiarism, and learn and practice using the American Psychological Association (APA) 6th edition style to write and format research papers and citation lists. This workshop will be held from 4 p.m. to 5:15 p.m. September 26 in RM 217, Ablah Library.
Gender Diversity Training will cover de-mystifying the transitioning process, challenges posed here at WSU, myths, misconceptions and language. The goal is to clarify the understanding of issues related to gender minority/transgender people. 2:30 p.m. to 5:00 p.m. on Tuesday, September 25 in Rhatigan Student Center 266. For more information and to register, go to
wichita.edu/transgender
.
An overview of freely available graphic design software programs and their application to small businesses including promotional flyers, brochures and mailers, business cards, professional presentations, and social media posts. Basic design principles and branding considerations will also be discussed. This workshop will be from 5:30 to 7:00 p.m. October 2, in Room 217, Ablah Library. For more info call Meghann Kuhlmann at (316) 978-5075.
In the "Trademark Basics: Protect Your Business Name" workshop, discover the difference between a trademark, service mark, and registered mark. Then, learn how to search for existing marks and logos and walk through the online trademark application process. this workshop will be from 5:30 p.m. to 7:00 p.m. September 25 in RM 217 Ablah Library. For more information, contact Sara Butts at (316) 978-5017.
Learn how to present information with charts, tables, smart art, and infographics to engage your audience. Discover new ways to spice up your PowerPoint presentation with fun designs, sounds, transitions, and animations. This is a hands-on workshop will be from 2 – 3:30 pm October 4 in RM 217 Ablah Library. For more information contact Sara Butts at (316) 978-5017.
Intro to SurveyMonkey workshop will be from 2:00 p.m. – 3:30 p.m. September 27 in RM 217 Ablah Library. Learn how to create surveys, get responses, analyze results, and display results graphically using the web based tool SurveyMonkey. During this hands-on workshop each participant will practice creating a simple survey. For more info contact Kathy Delker at (316) 978-6331.
A message from Called to Greatness Ministries: "God is orchestrating a plan to bring His reign of justice, love, peace and blessing into every nation, people group and culture. Join us each Thursday night from 7-9pm as we discover and discuss God's plan and purpose for all that is around us. Meeting in room 202 in the RSC."
A message from Called to Greatness Ministries: "Please join us inside the Grace Memorial Chapel on the WSU campus this Friday from 7-9pm as college students from all across Wichita gather together in unity for our monthly campus wide worship night! No agenda. Just enjoying Jesus and time in prayer and worship as we celebrate Him."
Interested in joining an organization of the Multicultural Greek Council? Check out each organization's week!:
Sigma Gamma Rho Sorority Week: November 11-17
Delta Sigma Theta Sorority and Omega Psi Phi Fraternity Week: November 4-10