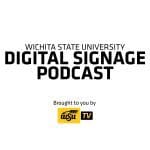 Here are your Wichita State University digital signage announcements for Monday, August 20th through Sunday, August 26th, 2018:
Stop by the Shocker Resource Fair on Wednesday, August 22nd from 10:30 a.m. to 12:30 p.m. in the Shocker Hall Plaza and get to know the opportunities, programs, and resources available to you at Wichita State! Come connect with over 40 departments and get entered for a chance to win some awesome prizes. For more information visit
www.wichita.edu/SAC
or email
sac@wichita.edu
!
Navigators Campus Ministry offers Nav Night Under the Sky event Thursday, August 23 at 7:30 p.m. at the Duerksen Fine Arts Amphitheater. They will have pancakes and games afterward.
Chi Alpha Christian Fellowship is a student organization that meets every Tuesday at 7:00 p.m. in the Rhatigan Student Center. For more information, follow their Facebook page "Chi Alpha Wichita."
Christian Challenge will be hosting an event called The Launch on Thursday, August 23 at 7:30 p.m. on the east side of the RSC. All students are welcome to join for games, ice cream, music, a raffle, and a brief student presentation.
Join the Fraternity and Sorority Life community for their annual Meet the Greeks on August 21st at 6:00 p.m. at the East Courtyard of the RSC. We will have yard games, music, free food and prizes!
Stop by the Rhatigan Student Center every Wednesday for the live music series, RSC Unplugged. RSC Unplugged for Wednesday, August 22 features Adam Capps from 11:00 a.m. to 1:00 p.m. in the RSC's Starbucks Lounge. Grab a cup of coffee and relax with some great music!
The Shocker Sports Grill & Lanes has great Welcomefest deals to start off the school year! From August 20 through August 31, enjoy $1.50 hot dogs, $3 per hour billiards, and $1.50 bowling games, even during cosmic bowling! Rental shoes are not included. Availability may vary due to group reservations and special events.
Turn the lights down and music up during cosmic bowling in the Shocker Sports Grill & Lanes, starting back up Friday, August 17! You can enjoy cosmic bowling from 8:00 p.m. to Midnight on Fridays and Saturdays for $2 per person, per game. Or stop by from 5:00 p.m. to 9:00 p.m. on Sundays to bowl for $1 per person, per game. Shoe rental is not included. Availability may vary due to group reservations and special events.
Start the school year off right with some live music and refreshments! Join the Rhatigan Student Center and WSU Dining Services for their Kick-Off Concert from 11:00 a.m. to 1:00 p.m. on Monday, August 20 on the RSC East Patio. With music from Annie Up and free Freddy's custard and popcorn, it's sure to start your semester off right!
The choice is yours at the Shocker Store! They carry many textbook options for students, including new, used, rentals and e-books. Purchase your choice of textbook options for your fall classes in store or online at shockerstore.com.
Shocker PROUD helps create a welcoming environment for all who serve and are served by the university. The PROUD in Shocker PROUD stands for Professional, Responsive, Open, Understanding and Dependable. If we, as a campus community, can embrace and utilize tools that help us deliver on these promises to all within our community we will not only help celebrate and lift WSU's Strategic Enrollment initiatives to grow enrollment, but we will continue to develop an experience we can all be proud of.
Black Student Union is teaming up with The Greater Wichita NPHC to present a stroll off competition between the Divine 9 greek organizations. We are excited to host this event as this will expose Wichita State University's campus to what our NPHC organizations are all about. Come out and join the excitement! This event is August 23rd at 6:30 p.m. in the CAC Theater. Entry is free when you bring 2 non-perishable items or $3 at the door.
Interested in joining an organization of the Multicultural Greek Council? Check out each organization's week!:
Chi Sigma Tau Fraternity Week: August 27-31
Kappa Alpha Psi Fraternity Week : September 3-8
Sigma Psi Zeta Sorority Week: September 10-14
Sigma Lambda Beta Fraternity Week: September 10-14
Kappa Delta Chi Sorority Week: September 16-22
Sigma Gamma Rho Sorority Week: November 11-17
Delta Sigma Theta Sorority and Omega Psi Phi Fraternity Week: November 4-10
Stop by the Shocker Sports Grill & Lanes in August to try their Burger of the Month, the Bleu Cheese Burger! The burger patty is stuffed with bleu cheese crumbles and then it's topped with bacon and bleu cheese dressing.
Join Campus Recreation and Wellness Services at the Heskett Center on August, 21 from 6:00 p.m. to 8:00 p.m. for a welcome to campus. Open to students, faculty and staff, this event showcases all the programs and services we offer, plus many chance to win prizes!
Enjoy root beer, a hot dog, valuable info about the Career Development Center and a chance to network with more than 30 employers at the Career Connection Root Beer Kegger, August 29, 11:00 a.m. – 1:00 p.m. on the lawn in front of the RSC! Must present WSU student ID. Dress is casual. More information available at
wichita.edu/kegger
.
Get your team of 2-6 people together to show your skills! Solve puzzles and riddles about the library to break into a locked box. Beat the times of other teams and get your name on the leaderboard! August 16, 21, and 29 from 11:00 a.m. to 12:00 p.m. in Ablah Library, Room 125.
Members of the Shocker Sports Grill & Lanes Eat.Drink.Play. Rewards Program can enjoy free billiards from 4:00 p.m to 7:00 p.m. on Fridays during the month of August. Not a rewards member? Joining is free and easy, simple stop in and ask!
Working on your tenure and promotion dossier? Want to determine the impact of your research? Come to one of the University Libraries' "Citation Searching and Altmetrics for T&P Dossiers" workshops. The workshop will be given 2 more times in Ablah, Room 217: Thursday, August 9, 2018 from 4:30 p.m. to 6:00 p.m.; and Thursday, August 30, 2018 from 3:00 p.m. to 4:30 p.m. For more information and to register go to
https://wichita.libcal.com/calendar
.
Join the Multicultural Greek Council for as each Multicultural Greek chapter showcases their deep rooted traditions in stepping and strolling at Yard Show! Thursday, August 30, from 12:00 p.m to 1:00 p.m. at the RSC North Patio. For more information, email 
wichita.mgc@gmail.com
.
Interested in going Greek? Learn more about each Multicultural Greek chapter on campus at the Multicultural Greek Council Informational! Monday, August 27, from 5:00 p.m to 7:00 p.m. in the RSC Ballroom. For more information, email 
wichita.mgc@gmail.com
.