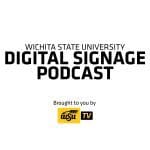 Here are your Wichita State University digital signage announcements for Monday, November 20th through Sunday, November 26th, 2017:
As the winter season is approaching, Santa is getting ready to make his annual appearance! His sleigh-bells are ringing and elfs are singing. Come to the RSC 1st floor on Monday, December 4th and take home your own picture with Santa! From 10a.m-2p.m, come and smile really big for the nice, jolly man! For more information about SAC-sponsored events, go to www.wichita.edu/SAC or contact us at sac@wichita.edu.
The Alpha Theta chapter of Sigma Psi Zeta Sorority, Inc. is hosting its 4th Annual Clothesline Project on Tuesday, November 28 from 11 a.m.-1 p.m. in RSC 142. The Clothesline Project is a visual representation of the reality of gender based violence. A clothesline of t-shirts with survivor's stories are hung to tell their stories and experiences. If you would like to decorate a t-shirt or learn more about the event, please contact Sarah Myose at syz.jager@gmail.com.
Gender Diversity Training will cover de-mystifying the transitioning process, challenges posed here at WSU, myths, misconceptions and language. The goal is to clarify the understanding of issues related to gender minority/transgender people. For more information and to register, go to wichita.edu/transgender.
Free HIV Testing on Friday, December 1st from 9 a.m.-3 p.m. Cosponsored with Student Health Services, the Office of Diversity and Inclusion, University of Kansas School of Medicine Wichita, Student Involvement and H.E.A.L.T.H.
Transgender Day of Remembrance is an annual observance that honors the memory of those whose lives were lost in acts of anti-transgender violence.
Join us in celebrating the culmination of LaunchPrep! December 5th from 5:00-7:00pm at the Wichita State Experiential Engineering Building, and here from our 5 presenting entrepreneurs.
Looking to find your favorite Shocker fan a holiday gift? Stop by the University Bookstore for their annual 12 Days of Christmas Sale from November 27 until December 9. New sale items are added each day, and then are on sale the remainder of the promotion! Prefer shopping online? The 12 Days of Christmas Sale is also online at www.wsubooks.com. Free shipping when you spend over $75.00.
The University Bookstore now has an exclusive line of American Athletic Conference Inaugural Season merchandise! Celebrate this momentous occasion for Wichita State! The Bookstore had a short sleeve tee, long sleeve tee, pennant, pin and button. They are available in store and online at www.wsubooks.com, limited time only. Go Shockers!
Provide a Christmas gift for a local family through The Salvation Army's Angel Tree and Star of Hope programs! The University Bookstore and Student Involvement will be hosting a tree in the Bookstore to help Wichita families have a Merry Christmas! To sponsor a family, visit the Bookstore and choose your angel or star off the tree and then return your gift to the Bookstore! For more information, contact Chelsea Redger at 316-978-3022.
Get in that festive, Shocker spirit with some Shocker ugly sweaters and tees from the University Bookstore! There are two crew sweatshirt options and one long sleeve tee option, all available in sizes small-3XL. Sweatshirts are $29.99 and tees are $19.99. Available in store and online at www.wsubooks.com.
IEEE Student Branch is excited to announce the main activity for this academic year. During every week's meeting we will be working on getting Cisco CCNA certifications. This year we will start with Cisco ICND-01/2. We will be using EEB's Cisco rack for our exercises besides a full Cisco lab that was put together with the help of EECS department's donated equipment. Our meetings during the Fall Semester are every Monday from 6 – 7 PM, RSC room #245.
The Counseling and Testing Center invites all students to participate in the Healing Arts Showcase. The showcase exhibits art work created by WSU students and aims to educate on and address mental health and the stigma surrounding it. Go to www.wichita.edu/healingarts to learn more about the submission process. All entries must be received by Jan. 12th, 2018 at noon.
The Student Health Clinic will be closed for part of Thanksgiving break. On Wednesday November 22nd the clinic will be 8 a.m. to 5 p.m. On Thursday November 23rd and Friday November 24th the clinic will be closed. Have a happy Thanksgiving from everyone at Student Health.
Stop by the Shocker Sports Grill & Lanes 2 hours prior to all men's basketball games to enjoy great game day specials on food and drinks! Perfect place for pre-game for home games or to catch an away game on all of our TV's!
Ulrich Museum will host an Artist Talk: Jamal Cyrus "Close to Home" on Tuesday, November 28. Jamal Cyrus will discuss his approach to materials and his research into and interest in issues of site and history, culture, and geology. Reception begins at 5:30 p.m. in the Ulrich Museum and the program begins at 6:15 p.m. in the CAC Theater.
Graduates myself RSVP online for 2017 Fall Commencement at MyWSU by 5:00pm on November 27. Go to wichita.edu/commencement for more information.
The University Bookstore is now carrying an exclusive line of WSU and Wichita Flag tees! Show your campus and community spirit. Available in long or short sleeve and both in store and online at wsubooks.com.
Members of the Eat.Drink.Play. Rewards program in the Shocker Sports Grill & Lanes can enjoy a bonus discount of 10% in addition to their rewards level discount every Friday in November! Simply show your rewards card to receive the discounts. Joining the rewards program is free and easy, just stop on by!
Do you have an online business? Learn about national and international market research at University Libraries free workshop "National and International Market Research" on Tuesday, November 28, from 5:30 to 7 pm in Ablah Library, room 217. For more information, contact Sara Butts at 978-5017.